John Hill new basketball coach at ECSU
7/7/2017, 9:25 a.m.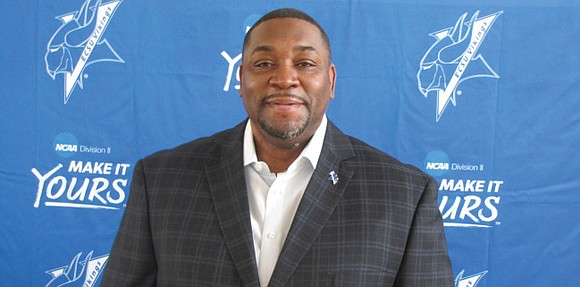 Elizabeth City State University has turned to veteran coach John Hill to revive its men's basketball program.
Coach Hill replaces Lou Grimsley, who coached the Vikings to a 3-22 overall record and 1-14 mark in the CIAA last season on an interim basis.
Elizabeth City was a combined 18-36 in the 2014-15 and 2015-16 seasons under Coach Alico Dunk.
Vikings Athletic Director Derrick Johnson didn't have to search far to find Coach Hill. On an interim basis, Coach Hill served as ECSU's women's basketball coach this past season.
Previously, Coach Hill posted a 77-91 record — 44-47 in the CIAA — in six seasons as the men's basketball coach at Lincoln University in Pennsylvania before departing following the 2015-16 season.
He also coached the women's team at the former St. Paul's College in Lawrenceville from 1998 through 2001 and the men's squad at Virginia State University, posting a 32-37 mark from 2002 through 2005.
Elizabeth City basketball has struggled since 2013-14, when Coach Shawn Walker left to become coach at Grambling State University in Louisiana. The Vikings were 14-13 during Coach Walker's final season.
There is a strong hoops tradition in northeast North Carolina. The Vikings play in the 5,000-seat R.L. Vaughan Center, named for CIAA Hall of Fame Coach Robert "Bobby" Vaughan.
In some 30 seasons, Coach Vaughan posted more than 500 victories and guided guard Mike Gale to an 11-year career in the ABA and the NBA.  
For the fall, the rest of the CIAA Northern Division coaching lineup will return in tact:
• Darrell Brooks of Bowie State University, back for the eighth season.
• Brett Vincent of Chowan University, back for the sixth season.
• Lonnie Blow Jr. of Virginia State University, back for a fifth season.
• Jay Butler of Virginia Union University, back for a third season.
• Doug Overton of Lincoln University, back for a second season.