RPS interim superintendent to focus on buildings, improvement plan
7/7/2017, 7:19 a.m.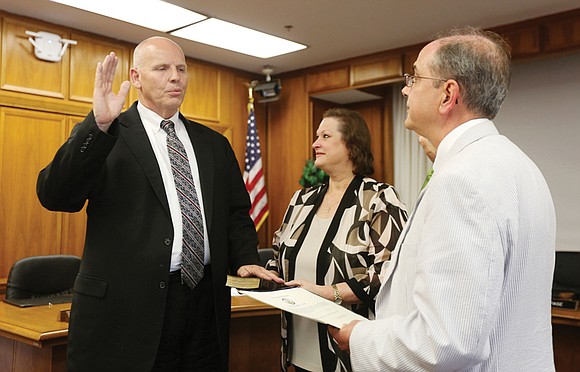 By Holly Rodriguez
Thomas E. Kranz, the new interim superintendent for Richmond Public Schools, plans to focus on improving school facilities and working with state officials to make systemic changes during his six months at the helm.
"We need to get ready for the start of school in September, and I want to be a part of moving the ball forward," Mr. Kranz said after taking the oath of office Thursday, June 29, in a short ceremony at City Hall.
Facilities are a major component of student success — academically and beyond, he said.
"When you go into a building and can't open the windows to let fresh air through, or you've got restrooms you can't use because of leaks, that is not an environment conducive to learning," he said.
Mr. Kranz, who has more than 20 years of experience in finance and operations in the public and private sectors, has been with RPS since 2014, most recently serving as chief operating officer.
His salary in the interim superintendent position is $166,904, according to his contract, which was obtained by the Free Press in an FOIA request. That's a more than $17,000 pay increase over the $149,379 annual salary he was earning in 2014.
The contract stipulates that he will work in the new role until Dec. 31. The Richmond School Board must hire a permanent, full-time superintendent by that date or the Virginia Department of Education can intervene with an appointment.
After taking the oath, signing documents and joking that he had nothing to say, Mr. Kranz thanked the room full of School Board members, RPS employees, friends and family.
"I want to thank you for welcoming me," he said. "You've helped me make Richmond my home these last three years. I will do my best to help us have fun at work, be productive . . . and have a great school year," he said.
School Board Chairwoman Dawn Page followed with a note of optimism.
"We thank Mr. Kranz and are confident in his ability to lead the district during this phase," she said.
Mr. Kranz takes over from Dr. Dana T. Bedden, who announced his departure in late April under a mutual arrangement with the School Board.
Mr. Kranz will continue to work with a public school system in which only 17 of 44 schools are accredited. RPS also is under investigation by the U.S. Department of Education Office for Civil Rights for suspected disparate disciplinary action toward African-American and special needs students.
The school system also is under the scrutiny of the Virginia Department of Education following a review that found numerous deficiencies.
In his remarks at the ceremony, Mr. Kranz seemed to welcome the structured help from VDOE.
"My other priority will be working with the state Department of Education on the … Corrective Action Plan for the school system, to streamline the policies and procedures to improve the quality of education for students," he said.
Asked what he brings to the table that previous superintendents have not, he acknowledged that he does not have an academic background in education.
He is a certified public accountant with a bachelor's in accounting from the University of New Orleans. He has worked as chief financial officer for the Hamilton County Public Schools in Chattanooga, Tenn., and as chief of educational support services for the Okaloosa County Schools in Fort Walton Beach, Fla.
"What I do bring is the experience of working at large organizations and learning best practices, based on what worked and what didn't," Mr. Kranz told the Free Press.
"Hopefully, I'll leave a better situation than what exists now."