Excellence Perry lives up to his name
7/14/2017, 10:20 a.m.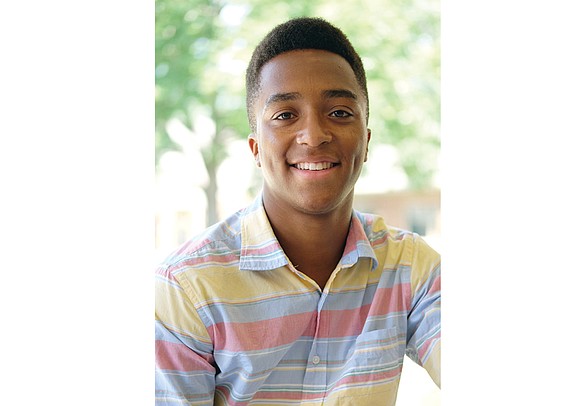 Just about everything is special regarding Excellence Perry, starting with his name.
"Our family is very religious and believes words have power," said the recent honors graduate of the Collegiate School in Western Henrico County.
"My name is my reminder of what I can do, what I'm capable of. I try and do my best in all areas. I don't think cautiously."
That also applies to his younger sister, Triumph, a rising eighth-grader at Falling Creek Middle School in Chesterfield.
Excellence, who will begin freshman classes at the University of North Carolina-Chapel Hill this fall, is the 18-year-old son of Lazarek and Jocellyn Perry of Chesterfield County.
His grandfather, Gilmore Perry, is a former track athlete at Virginia State University.
Certainly, Excellence lived up to his name at Collegiate, a private school he has attended from kindergarten through 12th grade.
His senior superlatives include a list of honors:
• As captain of Collegiate's football team, the 5-foot-10, 165-pound Perry rushed for 1,172 yards in leading the Cougars to the state Division 1 Virginia Independent Schools Athletic Association football title.
• He earned All-State honors for indoor track, excelling in sprints (6.52 for 55 meters) and jumps (21-6 long jump).
• He garnered All-State honors as a lacrosse defender.
• Academically, he finished Collegiate with a 4.28 GPA and earned a score of 29 — out of a maximum 36 — on the ACT college entry test.
• He won the College of William & Mary Leadership Award.
• He was named Collegiate Scholar-Athlete of the Year.
• He also earned early admission to UNC-Chapel Hill.
At UNC, he plans to compete only on club and/or intramural teams.
"I really hadn't done that much until I was a senior," he said of his athletic résumé. "I crammed a lot into this past year. This has been a year I will remember for the rest of my life."
To prepare for his planned major in journalism and media, he has completed internships at a Richmond newspaper and television station. He sees himself as a TV news anchor sometime down the road.
Excellence said he owes his considerable success to "friends, family and God."
"That's who kept me focused and on the right track," he said.
The Perrys attend non-denominational Faith Landmark Ministries in Henrico County.   
Excellence, who answers to "Ex" among close friends, said he differs from his sister in how they perceive "blueprints."
"I'm very structured in following a schedule," said Excellence. "I go to school, do sports, eat dinner and do my homework. If you gave Triumph a blueprint, she'd probably tear it up and throw it out the window."
Triumph has found her athletic niche in scuba diving and fencing.
Excellence said he has been asked "a million times" about his name, with people wondering if it is a nickname.
When quizzed by a reporter for the millionth and one time, he chuckled and offered this: "We like to think it was hand-picked by the Lord himself. Now it's engrained in my spirit and being. It shows I can be proficient and successful in all areas."