VUU men's basketball team recruits two new players
6/2/2017, 11:13 p.m.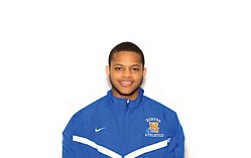 Help is on the way for the Virginia Union University men's basketball team.
Joining the Panthers for the 2017-18 season will be Jemal Smith, a community college transfer, and Raemaad Wright from King's Fork High School in Suffolk.
Both come with glossy credentials.
Smith, a 5-foot-9 guard, scored 1,103 points the past two seasons combined at Hostos Community College in Bronx, N.Y.
This past season, Smith averaged 19.1 points, 11.0 assists and 3.2 rebounds. He made 153 of 189 free throws — 81 percent — and hit 46 of 117 3-pointers, or 39 percent.
He posted highs of 40 points against Dutchess Community College and 39 points against Bronx Community College and was the City University of New York Athletic Conference Player of the Year.
Smith will have two years of eligibility at VUU.
A native New Yorker, Smith was a prep star at Cardinal Hayes High School in the Bronx.
Wright is a 6-foot-7, 210-pound forward who earned All-Conference 17 and second-team, All-4A East Region honors.
He averaged 15.5 points and 15 rebounds per game as a senior and is considered a strong shot blocker. Academically, Wright is a student in the International Baccalaureate program at King's Fork High School.
VUU went 22-8 a season ago, qualifying for the NCAA Division II playoffs, but there are holes to fill on the team. From the CIAA Northern Division championship squad, VUU Coach Jay Butler loses three seniors who combined for 39 points and 19 rebounds per game.
Departing Panthers include CIAA Player of the Year Ray Anderson (18.4 scoring average), Tavon Mealy (11.3) and John Mitchell (9.1).