Primary contests for city sheriff and treasurer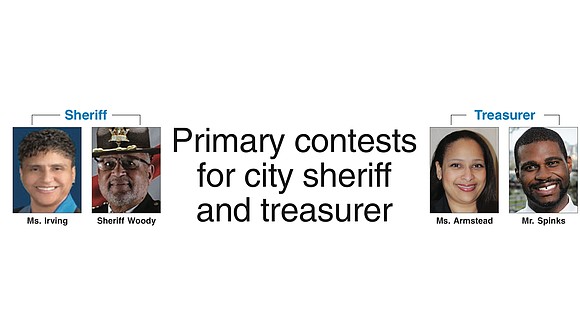 Election — Races for Richmond sheriff and city treasurer essentially will be decided next Tuesday, June 13.

With no Republican competition, the winners of the Democratic primaries for the two offices are virtually guaranteed to win in November in this majority Democratic city.
Incumbent Sheriff C.T. Woody Jr., who is seeking his fourth, four-year term, is facing another challenge from Antionette V. Irving, a retired major with the Henrico County Sheriff's Office.
Sheriff Woody can tick off a long list of achievements, ranging from construction of the new jail to programs aimed at helping inmates overcome addiction, earn a GED and prepare for employment.
Ms. Irving, who has been unsuccessful in two previous long-shot attempts to defeat Sheriff Woody, is citing inmate deaths, lawsuits and other problems with his administration. As before, she has raised little money and has shown little evidence that she can pull off an upset.
At least one independent candidate is preparing to challenge the winner. Kenneth C. Foster, a retired Richmond Police detective, has filed his paperwork for candidacy. Other independent challengers have until the polls close at 7 p.m. Tuesday to file.
The other primary election for the office of city treasurer features two Democrats who are vying to succeed retiring city Treasurer Eunice Wilder, who has served since 1992.
The candidates are Nichole Richardson Armstead, a self-employed project management consultant with past experience in banking and the daughter of former City Councilman Chuck Richardson, and Tavarris J. Spinks, a business analyst for a health care company. He has past experience in consumer finance and is an active member of the Metro Richmond Area Young Democrats.
The office they are seeking has nothing to do with city finances. Instead, the office is involved in collecting overdue state income taxes, assisting residents with filling out tax returns, paying jurors and issuing hunting and fishing licenses.
Ms. Armstead said that along with performing those duties, she would use the office to encourage financial literacy and teach residents how to budget and better handle their finances and minimize debt.
Mr. Spinks said along with performing the official duties, he also plans to act as a public advocate for city residents.