New Coliseum in the works?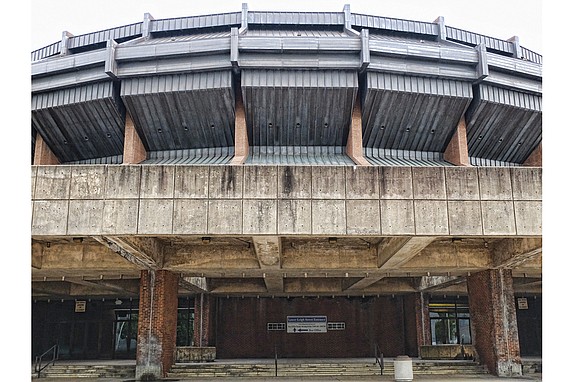 By Jeremy M. Lazarus
Where would the money come from?
That was the unanswered question in 2011 when former Mayor Dwight C. Jones unveiled a $147 million proposal that went nowhere to replace the aging Richmond Coliseum — still the area's largest single site for major concerts, religious gatherings and other events.
And it is still the question today, according to members of City Council and others after public disclosure this week that a study group led by Dominion Energy's Executive Chairman and CEO Thomas F. Farrell II is working behind the scenes on a new proposal.
The online business news site, Richmond BizSense, broke the story on Tuesday.
According to reports, Dominion, Altria and other corporate entities consider replacement of the Richmond Coliseum a major priority for the Richmond area.
Richmond Mayor Levar M. Stoney has expressed interest, noting in a statement through spokesman Jim Nolan that "the Coliseum is a public asset that has become a public liability, costing taxpayers $1.6 million a year."
The subsidy has gone up as the operators, SMG/Johnson Inc., struggle to find bookings. Between now and December, only 20 dates are filled, according to the Coliseum's published schedule.
Fifteen of the dates involve regional gatherings of Jehovah's Witnesses this summer. Another day is set aside for a different religious group's event, and there is a fall specialty event for cheerleaders and their fans.
Otherwise, there are only three events offered for the broader public — a pro wrestling contest this summer, a fall rock concert and a winter comedy tour.
It gets no better in 2018. So far, the only scheduled event through March is a four-day entertainment event featuring comic book heroes and villains.
Despite the challenge, Richmond taxpayers could face an even bigger bill to cover the debt service on a new arena costing $150 million or more.
That's the price tag for such buildings these days. The John Paul Arena in Charlottesville, now the state's largest arena, cost $131 million in 2006.
To finance $150 million over 30 years, taxpayers would need to pony up $6 million to $8 million a year to repay that debt with interest. That's four to five times what is now being spent to keep the Coliseum's doors open.
That kind of expense would be a big, if not impossible, swallow for a city that has largely maxed out its credit card for the next five years, according to the city administration.
Taking on a new Coliseum could prove a tough sell for the mayor and City Council, who so far have largely given up on finding money to replace some of the 36 or more aged and increasingly decrepit school buildings.
There also is no certainty that Richmond's suburban neighbors would be eager to share the cost of a new Coliseum.
Chesterfield and Henrico counties both declined to participate in replacing The Diamond, home to the minor league baseball Richmond Flying Squirrels, with a $50 million stadium, a far smaller project.
In other localities taking on a big project like this, one option has been to create a TIF, or tax incremental financing district.
Essentially, that consists of using the increase in property values and resulting property taxes on surrounding properties as a revenue stream to subsidize the cost of a new stadium or arena.
The only problem: The Coliseum is located in an enclave of largely tax-exempt government buildings and nonprofit operations.
Even if the surrounding property were taxable, it would take a huge increase in values to generate enough money. In Richmond, it takes a $100 million increase in property values to generate $1.2 million in new real estate tax revenue, and it takes $100 million in sales to generate $1 million in new sales tax revenue.
Mr. Farrell's planning group has yet to release to City Council an actual proposal or provide any details on the potential cost.
According to reports, the proposal is expected to call for tearing down the 46-year-old building and building anew on the current site, bounded by 5th, 7th, Marshall and Leigh streets.

The project also could include a new hotel on the site, reports suggest.
The Coliseum, which opened in 1971, cost $12 million to construct at the time, according to the Coliseum's website.
The total cost of the building is listed at $24 million. The additional $12 million was spent on streets, utilities, architecture, engineering and other related costs.
In typical fashion, the city created but never funded a reserve to cover maintenance and future replacement of the Coliseum. In 2003, the city invested $7 million to replace seats, improve the sound system and the air conditioning and replace some worn-out piping. Another $5 million has been spent on plaza improvements.
But that is a far cry from the estimated $30 million that the city estimates would be needed for a major renovation of the current building, according to city budget documents.
For now, a new arena in Richmond could remain just talk until there is an answer to the big question of how to pay for it.