Take them down
6/30/2017, 7:32 a.m.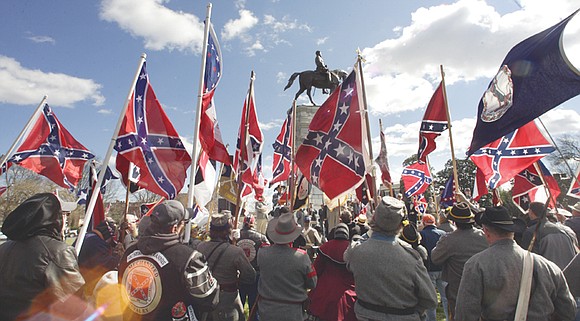 The SPLC undertook its review, in part, because the 22-year-old convicted shooter, an avowed white supremacist, said he launched the attack to spark a race war. Shortly after the mass shooting, photos surfaced of the perpetrator with the Confederate flag. Communities then began to re-evaluate the public display of Confederate symbols.
Debates are raging in Southern cities, including Memphis, about removing Confederate statues even as state lawmakers followed Virginia and other states in passing legislation to protect them.
In late May, Alabama Gov. Kay Ivey signed into law the Memorial Preservation Act, which provides sweeping protections for Confederate and other historic monuments. Supporters say they want to protect history — the good and the bad.
That's like putting up a monument to the KKK and saying it deserves to be there because it is merely history.
Monuments symbolize what we choose to value. Do we, in Richmond, really want the world to think we value people and a skewed way of life that had little value for black lives?
Richmond is better than that.
We renew our calls for Mayor Stoney and the City Council to simply remove the statues. Let those who want them pay to move them to a museum, or use federal dollars to move them to a National Park battlefield site where they can be placed in true context.
And we call again for Gov. Terry McAuliffe and the General Assembly to remove or rename the state holiday named after the Confederate traitors Lee and Jackson.
It's time for Richmond and Virginia to heal and move on.