Charlie Wilson, Fantasia, Johnny Gill in Richmond April 1
3/10/2017, 9:12 p.m.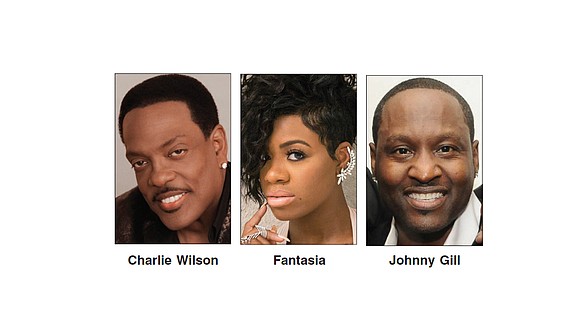 R&B artist Charlie Wilson, the lead vocalist behind the legendary R&B group The Gap Band, will perform 7 p.m. Saturday, April 1, at the Richmond Coliseum for his "In It to Win It" Tour.
The All White Attire Concert, promoted by Richmond's Hosea Fox, also features artists Fantasia and Johnny Gill.
Mr. Wilson is touring to promote his latest solo album, "In It to Win It," released last month and featuring collaborations with Snoop Dogg, Pitbull, Robin Thicke, Wiz Kahlifa and T.I.
In a career that spans 45 years, Mr. Wilson launched his solo career in 2005 with his album, "Charlie, Last Name Wilson," highlighted by collaborations with R. Kelly, Justin Timberlake, will.i.am and others. The album sold more than 500,000 copies. His 2010 album, "Just Charlie," included the hit single "You Are," which held the No. 1 spot on the Billboard Urban Adult Contemporary chart for 13 weeks.
He has received 11 Grammy Award nominations and six NAACP Image Award nominations. In 2014, he received an Image Award for Outstanding Album for "Love, Charlie." Prior to that, he received the 2009 Soul Train Icon Award and the 2013 BET Lifetime Achievement Award.
Mr. Wilson recorded 15 albums with The Gap Band, a party group responsible for such hits as "You Dropped a Bomb on Me," "Outstanding" and "Party Train."
After 15 albums, the group announced their retirement in 2010.
Fantasia's career was launched in 2004 when she was a contestant on the television show, "American Idol." Her debut album, "Free Yourself," released the same year, went platinum. Her latest single, "When I Met You," was released in January.
She has also appeared on several television shows, in films and as a guest star on Broadway.
Johnny Gill joined the chart-topping R&B group New Edition in 1987 following Bobby Brown's abrupt departure. Mr. Gill recorded hit singles such as "Can You Stand the Rain" and "N.E. Heartbreak" with the group before launching his solo career a few years later. In 1990, his second, self-titled album included hits such as "My, My, My" and "Rub You the Right Way." He has received four Grammy Award nominations.

Tickets range from $79.50 to $112 and can be purchased at the Richmond Coliseum Box Office, 601 E. Leigh St., through Ticketmaster.com or by phone (800) 745-3000.