MEAC Tournament this weekend in Norfolk
3/10/2017, 7:54 p.m.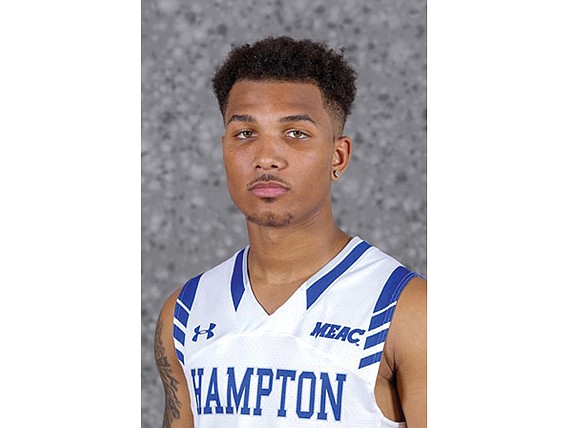 If Hampton University is to "three-peat" as MEAC basketball champion this weekend, much will depend on Jermaine Marrow.
The 6-foot freshman from Heritage High School in Newport News has been a catalyst this season for veteran Pirates Coach Ed "Buck" Joyner.
HU, seeded fourth in the tournament, will open play at the Norfolk Scope on Thursday, March 9, with an 8 p.m. quarterfinal game against the survivor of the No. 5 University of Maryland-Eastern Shore game against North Carolina A&T State University.
Marrow, dubbed "Mayno," figures to be in the middle of the action for an HU squad that enters the tournament with a 14-15 overall record and an 11-5 MEAC mark.
In earning All-Rookie team honors, Marrow averaged 15.4 points, 3.2 rebounds and 3.2 assists. He posted 10 games with 20-plus points, with a high of 31 points against Florida A&M University.
Marrow was named MEAC Rookie of the Week five times and also MEAC Player of the Week on five occasions.
Last winter, Marrow was named State 4A Player of the Year after averaging 31 points and leading Heritage High to the state quarterfinals.
HU won the MEAC Tournament in both 2015 and 2016 and gained the conference's automatic NCAA bid. The Pirates, however, were eliminated in the NCAAs by the University of Virginia last year and by the University of Kentucky in 2015.
North Carolina Central University won the recent regular season title and is the No. 1 seed in the MEAC Tournament. The Eagles' Patrick Cole was named MEAC Player of the Year and LeVelle Moton was selected as MEAC Coach of the Year.
Norfolk State University, led by All-MEAC player Jonathan Wade, is the No. 2 seed and began play on Wednesday. The Free Press did not have results by press time. If the Spartans won their opener, they would be pared at 8 p.m. Friday, March 10, with the survivor of the Morgan State University-Coppin State University-Howard University matches.
If Hampton University wins Thursday, the Pirates will play at 6 p.m. Friday, March 10, against the survivor of the North Carolina Central-Delaware State University-Bethune Cookman University matchups.
The MEAC Rookie of the Year is Howard University's Charles Williams from Milwood School in Chesterfield County. Williams averaged 16 points and led the Bison with 60 3-pointers.