Dominion Riverrock slated this weekend
5/19/2017, 7:51 p.m.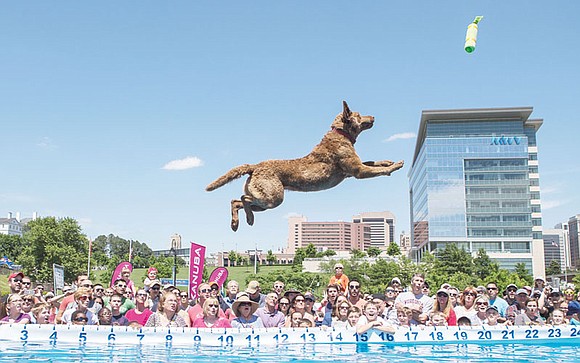 Dominion Riverrock returns this weekend with a fresh sampling of fun, games, live music and athletic competitions on the riverfront.
The three-day event, which promotes itself as "the nation's premier outdoor sports and music festival," will feature a circus-style atmosphere, according to the schedule.

On tap: Cyclists doing tricks on their bikes, people climbing huge rocks, kayaks racing in the James River, dogs leaping into a large pool and a host of other activities, according to the program.

People can sign up for events, stay on the sidelines to cheer on competitors or simply enjoy the show as a spectator. Along with running and rowing events, Riverrock also will feature an array of bands pumping out music.
Open to the public without charge, Riverrock will run from 5 to 10 p.m. Friday, May 19; 9 a.m. to 10 p.m. Saturday, May 20; and 8 a.m. to 5 p.m. Sunday, May 21.
Location: On and around Brown's Island at the south end of 5th and 7th streets in Downtown.
One of the opening events on Friday, the Filthy 5K Mud Run gives the flavor of this festival. Competitors will have to run and crawl through mud pits as part of the race that covers 3.1 miles.

Dominion Energy teams with booster groups for sports tourism and the city's Downtown to stage the annual event.
Information: Sports Backers, (804) 285-9495; Venture Richmond, (804) 788-6466; or dominionriverrock.com.