VUU Panthers upended in exhibition game against VCU Rams
Fred Jeter | 11/10/2017, 7:22 p.m.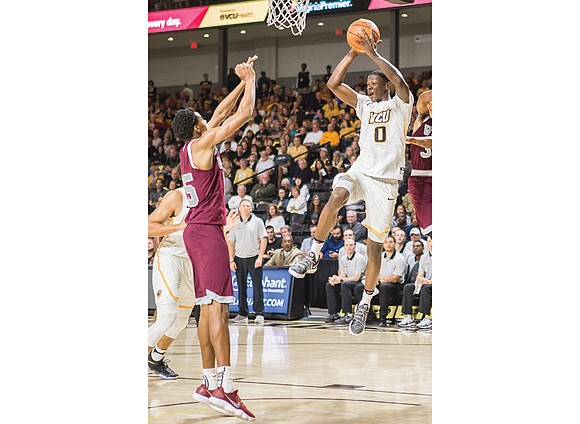 College basketball preseason exhibitions are more about evaluating talent than the numbers on the scoreboard.
In the final tune-up before the games really count, Virginia Commonwealth University used the home-floor advantage and a ferocious press to upend Virginia Union University 98-74 last Friday at the Siegel Center.
Here's some of what the coaches learned about their rosters: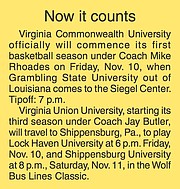 VCU needs a wide body to replace Mo Alie-Cox in the middle and may have found him in Khris Lane.
VUU needs someone to step up and become a marquee attraction following the loss of CIAA Player of the Year Ray Anderson. The Panthers might have him in Kory Cooley.
Alie-Cox gave VCU a formidable presence on the low post before signing an NFL contract with the Indianapolis Colts.
Lane, at 6-foot-6, 255 pounds, is similar in size to Alie-Cox and has perhaps a bit more pizzazz on the offense. Lane had 21 points, eight rebounds and three blocked shots in the game against the VUU Panthers.
Also, Lane extends VCU's "Benedictine East" label. With brothers Brad (2008-2012) and Jordan Burgess (2012-2017), the Rams enjoyed a long-time presence of an ex-Cadet in their lineup.
Lane, a transfer from Longwood University where he led the Lancers in scoring and rebounding, continues that local tradition.
VUU needs someone to fill the void left by Anderson, who averaged 20 points during his junior and senior years combined and finished with nearly 2,000 points.
Cooley, a transfer from the University of District of Columbia, netted 19 points and passed for five assists against the VCU Rams and is a preseason All-CIAA pick.
The Panthers couldn't handle VCU's relentless defense, with the Panthers committing 23 turnovers, 16 of which were VCU steals. Many led to quick scores, hyping up an already rowdy crowd at the Siegel Center.