Deadline to register to vote Monday, Oct. 16
10/6/2017, 7:28 a.m.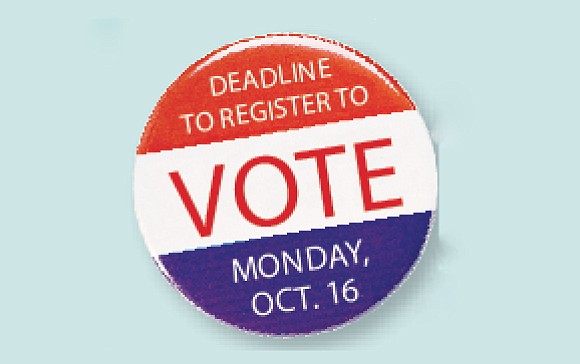 On Tuesday, Nov. 7, voters will go to the polls to elect Virginia's governor, lieutenant governor, attorney general and members of the Virginia House of Delegates.
In addition, Richmond voters will cast ballots for the city sheriff, treasurer, commonwealth's attorney and 3rd District representative to the Richmond School Board.
City voters also will be asked to vote on an amendment to the City Charter regarding funding for renovating or repairing public school buildings.
The deadline to register to vote in the election, or update an existing registration, is Monday, Oct. 16.
Registration applications are available online and at the state Department of Motor Vehicles offices, public libraries, all post offices and other government offices and in local voter registrars' offices.

Applications must be postmarked by the Oct. 16 deadline.
Voters also may request an absentee ballot through the mail through Tuesday, Oct. 31. However, voters may apply and vote absentee in person at the Richmond Voter Registrar's Office in City Hall, 900 E. Broad St. by 5 p.m. Saturday, Nov. 4.
The office is open 9 a.m. to 5 p.m. Monday through Friday, and will be open 9 a.m. to 5 p.m. on Saturday, Oct. 28, and Saturday, Nov. 4, for absentee voting.
People with an ID issued by the state DMV may go online to register to vote, update their registration information and apply for an absentee ballot at www.elections.virginia.gov.
Voters must have an acceptable photo ID in order to cast a ballot. Free photo IDs are available at all local registrars' offices.
For information, including who is running for election, verification of voter registration, polling places and the types of photo IDs that are acceptable, go to www.elections.virginia.gov.
Information also is available at www.VOTE411.org, a website created by the nonpartisan League of Women Voters.