Picketer seeks to challenge regulations in Capitol Square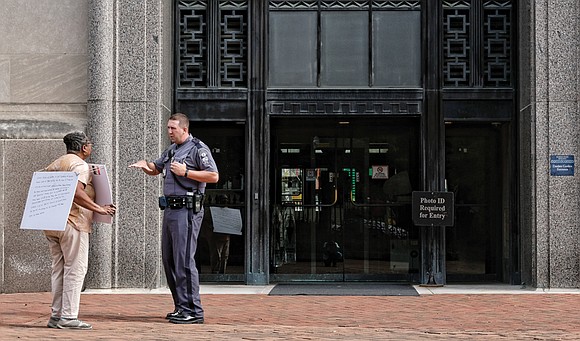 By Jeremy M. Lazarus
Beatrice Downs is learning that sidewalks are not created equal when it comes to public demonstrations.
The 69-year-old nurse found that out when she sought to picket outside the governor's office in Capitol Square.
The Henrico County resident is convinced that state officials have made it more difficult for her to work or to find a place to live, "and I wanted to bring this to the attention of the governor."
She wrote out her grievances on signs she tied around her neck and began walking on the brick sidewalk outside the Patrick Henry Building, just a stone's throw from the State Capitol where the legislature meets.
But then a Capitol Police officer came out of the building, she said. He told her that she couldn't picket there without a permit and that she could be arrested for trespassing if she did not leave.
He also told her she could picket as much as she wanted outside Capitol Square on city sidewalks, she recounted.
"I don't want to do that. The governor wouldn't see me then," Ms. Downs said, in explaining why she wanted to carry the signs on the state sidewalk.
She left, but she is finding it difficult to understand why a state-owned sidewalk is different from a city-owned sidewalk when it comes to picketing.
"I have looked this up. Sidewalks are supposed to be public forums. That's what the courts have ruled. So why is a state sidewalk exempt? It doesn't seem right," she said.
Ms. Downs is asking the American Civil Liberties Union of Virginia to represent her to challenge the state prohibition against her picketing.
ACLU officials are considering the request. For several years, the ACLU has been urging Gov. Terry McAuliffe to revise regulations governing demonstrations in Capitol Square that it describes as "riddled with constitutional problems."
In a 2014 letter to Gov. McAuliffe, the ACLU wrote, "Capitol Square is a quintessential public forum. The vague and arbitrary restrictions on free speech undermines Virginians' right to protest their government."
The regulations require pre-approved permits for demonstrations and limit their location to the Bell Tower area near the Franklin Street entrance to Capitol Square.
The ACLU noted in its letter that the limits on the place where demonstrations can be held, and the ability of officials to deny permits based on the content of the speech, violate the First Amendment.
The letter cited one example where officials denied a permit because the event was to be held at noon, and the state regulation indicated that noon events "were to be avoided."
Ms. Downs' experience indicates a new regulation compatible with the U.S. Constitution has yet to be implemented, according to Claire Guthrie Gastañaga, ACLU or Virginia executive director.