Trump speaks at event hosted by hate group
10/19/2017, 6:07 p.m.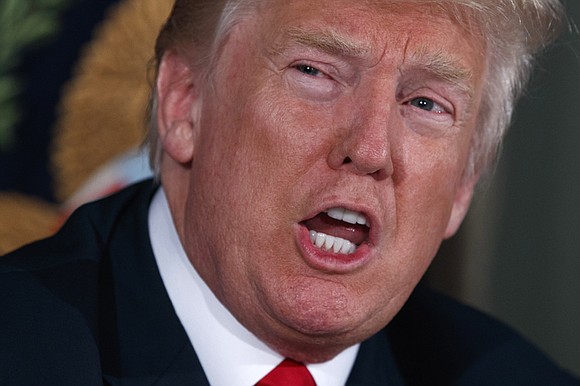 Free Press wire report
According to the Southern Poverty Law Center, President Trump spoke to a hate group last week — and he was a hit. The Family Research Council, which is on the SPLC hate group list, invited the 45th president to speak at the Values Voter Summit, an annual socially conservative conference. This proved to be a political layup for President Trump, the first sitting president to speak at the conference, amid the turmoil surrounding his administration.
A key focal point to the address was the so-called war on Christmas. President Trump vowed that, under his lead, department stores across the country will return to acknowledging the Christmas holiday.
"You go into a department store. When was the last time you saw 'Merry Christmas?' You don't see it anymore," Trump said. "They want to be politically correct. If I'm president, you will see 'Merry Christmas' in department stores, believe me, believe me."
While the majority of Americans do celebrate Christmas, many do not take holiday greetings as personally as President Trump evidently does. According to the Pew Research Center, "46 percent of Americans say it doesn't matter how stores greet their customers over the holidays."
Regardless, President Trump went further into the religious debate by claiming that Judeo-Christian values are under attack.
"America is a nation of believers and together we are strengthened and sustained by the power of prayer," he said.
A little under a quarter of the American population identifies as religiously unaffiliated, according to Pew, with the percentage of those who do not align with a specific faith on the rise.
When President Trump was done bashing department stores, he pivoted to bashing his friends on Capitol Hill. He used the crowd to push for action on replacing the Affordable Care Act. This comes on the heels of his decision to roll back an Obamacare requirement to provide birth control as part of health insurance programs.
Tony Perkins, president of the Family Research Council, applauded that decision, saying that the president is committed to "undoing the anti-faith policies of the previous administration and restoring true religious freedom."
President Trump's statements on Christmas and birth control issues reiterated his theme, adding, "We don't worship government; we worship God."