VSU's yearlong wins unbroken
10/19/2017, 6:21 p.m.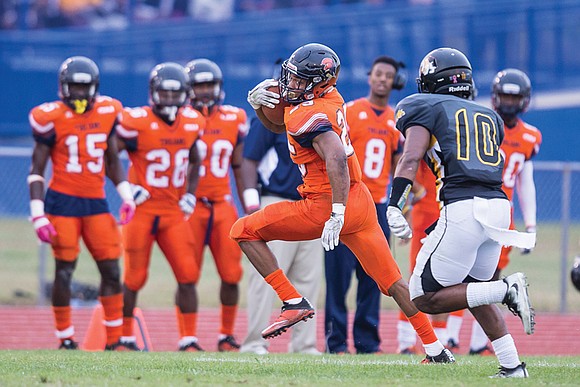 Defeat? What's that?
Virginia State University may have forgotten what losing even tastes like. It's been more than a calendar year since it was on the wrong side of a football score.
The VSU Trojans have won 10 straight games over the past two years and are 6-0 for 2017 after topping Bowie State 47-35 before a festive homecoming crowd of 17,092 in Ettrick last Saturday.
Also, a national audience got a peek at the the Trojans' dominance via Aspire TV.
Coach Reggie Barlow's squad will likely extend its winning streak Oct. 21 when it travels to the Philadelphia area to play Lincoln, a winless outfit that VSU beat 69-7 last year.
Failure is a distant memory for the Men of Troy.
VSU's last setback was Oct. 15, 2016, when it lost to Bowie, 38-37.
That must have really made the Trojans mad. Since then they've made life miserable for their opponents.
The Trojans finished the 2016 season with four straight victories, averaging 53 points per game.
It's been more of the same this year.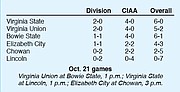 After opening with a 14-10 win at FCS Norfolk State, the Trojans have averaged 47 points in ousting five Division II foes.
Even Bowie, ranked No. 14 nationally in NCAA Division II coming in, couldn't keep up.  
Players who dominated the field were Trenton Cannon, Cordelral Cook and Brandon Lynch.
Cannon, on a mission to become VSU's all-time ground gainer, rushed for 234 yards, featuring a 93-yard touchdown dash down the sidelines that revved up the heartbeat of the old grads.
Cook, the gifted transfer from Alabama State, passed for two touchdowns and ran for three more. Lynch had 11 tackles, including a sack.
Bowie had no answers. Relentlessly, VSU amassed 596 yards in total offense.
Bowie quarterback Amir Hall passed for 281 yards and five touchdowns, but was sacked five times, threw an interception and lost a fumble.
The CIAA's passing leader spent much of the day either on the turf or throwing while on the run to avoid the rush. Hall was a top candidate for the hot tub once the Bulldogs returned to Maryland.
Still, VSU is no lock to reach the CIAA's championship game Nov. 11 in Salem.
The Trojans' Nov. 4 match with Virginia Union (playing at Bowie this week) could determine a Northern berth and possibly an NCAA bid.
The VUU-VSU game will be in Ettrick, which is not good for visitors. Since Barlow's arrival, VSU is undefeated at Rogers Stadium.
St. Augustine's, surprisingly, is in the driver's seat in the South following a 17-14 upset in Raleigh over two-time defending CIAA champion Winston-Salem State.