VUU to play Elizabeth City State for homecoming at Hovey Field
10/27/2017, 6:32 a.m.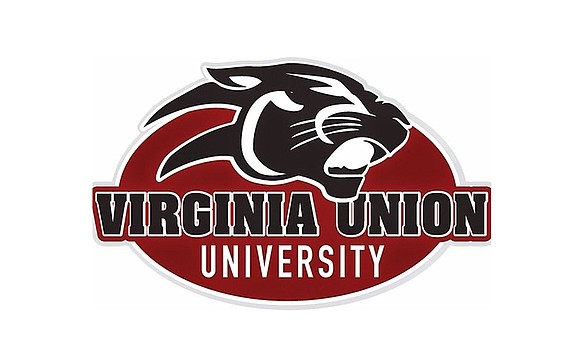 Through eight football games, Virginia Union University has been explosive on offense, porous on defense and its own worst enemy on penalties.
Put that all together and the Panthers, as talented as they are, are 5-3 overall, 4-1 in the CIAA, and clinging to postseason life.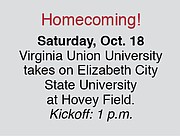 They face a must-win on Saturday, Oct. 28, as longtime nemesis Elizabeth City State University comes to Hovey Field as VUU's homecoming opponent.
If form holds, VUU alumni can expect a give-and-take, high-scoring homecoming game, with plenty of yellow flags littering the Hovey Field turf.
VUU lost an inside track to the CIAA North title last Saturday with a 40-22 loss at Bowie State University that was much tighter than the score indicates.
Darius Taylor threw for 179 yards and two touchdowns. He ran for 96 more yards as the Panthers — after trailing 20-0 — mounted a spirited comeback.
But the defense and penalties kept getting in the way.
VUU's defense faltered against the pass — Bowie State's Amir Hall threw for 386 yards — and the run. Bowie State's Robert Chesson rushed for 167 yards. In all, the Bulldogs churned out 594 yards total offense.
Then there were the penalties, 14 in all against the Panthers, costing 77 yards. But that doesn't tell the whole story.
With six minutes left, a 59-yard Taylor scoring strike to Lavatiae Kelly appeared to pull the Panthers to within 33-28, with a chance to slice the deficit to three with a 2-point conversion.
For an instant, momentum was all on VUU's side of the field.
But no. The play, beautiful as it was, was nullified by a substitution penalty, and the game — and perhaps season — took a dagger in the side.
Penalties have been an issue all season. The Panthers have suffered 97 flags for a loss of 857 yards, putting the Panthers last in the CIAA in each category.
By comparison, VUU's opponents have been penalized 56 times for 541 yards.
Offensively, the Panthers averaged 30.1 points and 392.4 yards, ranking third in the CIAA in both. Defensively, the Panthers yield averages of 25.8 points and 397.1 yards, eighth in the conference.
The loss in Maryland snapped a four-game VUU winning streak and puts the Panthers a game behind Virginia State University in the CIAA Northern Division standings, with time running out.
VUU ended last season by losing to Elizabeth City State and VSU to finish 5-5. The Panthers must reverse that and post consecutive closing victories this season hopefully to qualify for the CIAA championship game Nov. 11 in Salem.
There is a chance.
The Panthers close the regular season Saturday, Nov. 4, at VSU with the opportunity of forcing a three-way tie at the top. Then tiebreakers would decide the Northern Division's representative to the CIAA championship.
Once again, VUU unveiled a before unknown star in Maryland. This time it was senior tight end Aquil Ingram-Harrow, who caught his first touchdown pass.
Ingram-Harrow became the seventh Panther to snag a touchdown aerial this season and 12th overall to make a reception in Coach Mark James' diversified attack.
The game will also be remembered for one of the most unusual plays in VUU gridiron annals.
Following a Bowie State touchdown with 9:06 left, the extra-point kick was blocked. Ray Lewis III Jr., son of the former NFL star, scooped up the loose pigskin and raced to the opposite 10-yard line before lateral-ing the ball to Max Beauleau, who scored a two-point safety.
So instead of being down 34-20, it was 33-22.
Soon after, Taylor appeared to draw VUU closer with his spectacular long scoring pass.
But as the Panthers celebrated the apparent touchdown, an all too frequent sight — a yellow flag — proved again to be the party pooper.