Hurricane Harvey devastates Texas; blasts into Louisiana
9/1/2017, 7:35 a.m.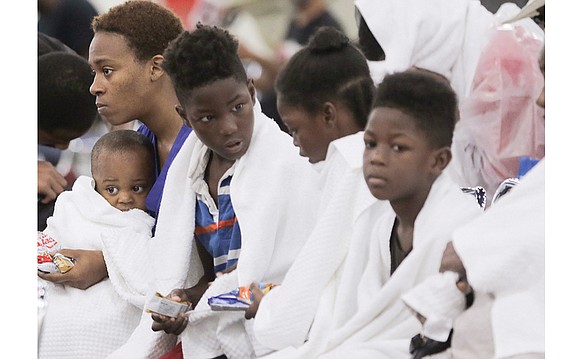 In Corpus Christi, President Trump was briefed by Texas Gov. Greg Abbott, who thanked the president for advance preparation, saying, "Texas has been tested."
"But our response to this challenge has been made much more effective because of the very effective way that the Trump administration has responded," the governor said.
"This was of epic proportion. No one has ever seen anything like this," President Trump said in response. "We won't say congratulations. We don't want to do that. We'll congratulate each other when it's all finished."
The White House confirmed that President Trump plans to return to the Lone Star State on Saturday to visit areas still reeling from Hurricane Harvey.
As of Tuesday, the Houston Convention Center is sheltering double its 5,000-person capacity. Houston Mayor Sylvester Turner announced that the Toyota Center, an indoor arena located in downtown Houston where the NBA Houston Rockets play, also would be opened as an additional shelter for people displaced by the hurricane. 
Millions of appeals for prayers and assistance continue, as experts say the rebuilding process may take years. Several national organizations, and local organizations in Texas, are accepting donations to help hurricane victims. The American Red Cross is accepting donations on its website, www.redcross.org. People also can text HARVEY to 90999 to donate $10 to Red Cross Hurricane Harvey Relief.