Vagabond to reopen with Mama J's flair
9/1/2017, 10 a.m.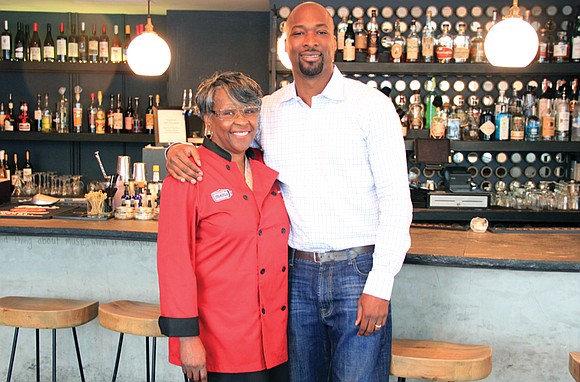 By Ronald E. Carrington
Vagabond, a stylish restaurant at 7th and Broad streets, is reopening Friday, Sept. 1, with some Mama J's flavor and flair.
Restaurateurs Velma R. Johnson, owner of Mama J's Kitchen on 1st Street, and her son, Lester Johnson, are blending their experience and several signature dishes from the Jackson Ward location and adding a dash of entertainment to create a new vibe at the Broad Street eatery.
When it reopens, Vagabond will have an expanded Southern comfort food menu, the Johnsons told the Free Press on Tuesday. That includes some of what the family has served up at Mama J's Kitchen and a little bit more — shrimp and grits, lake trout, mustard beef ribs, Mama J's signature fried chicken, grilled pork chops, some okra dishes and macaroni and cheese.
The recipes are from Mrs. Johnson's mother and grandmother, ones that she doesn't use at Mama J's, Mrs. Johnson said.
The goal, Mr. Johnson said, is to "take the food and pair it with entertainment. That's the excitement this project is about."
Speakeasy at Vagabond, the restaurant's downstairs, will have a cool, urban vibe featuring music six nights a week, Mr. Johnson said. Trumpeter Mark Ingram will handle the entertainment, he said, which is expected to attract patrons attending concerts at The National, which is located next door and also is the Vagabond's landlord.
"I was very excited when (Lester) told me about (the opportunity to expand) and brought me down here to see the facility," Mrs. Johnson said.
"It is a beautiful facility," Mr. Johnson said. "And the location for us made sense because it's not that far from Jackson Ward and still in Downtown. It's a place where people can come and get good food, where they can relax and listen to good music and really just be like a neighborhood meeting place."
Being next door to The National is a positive, he continued. "The theater features about a 180 shows a year, which generate about 1,500 people per show. So you have an audience that's constantly coming down here for The National shows, which will help us creative an exciting brand."
He said Vagabond hopes to piggyback on the growth and excitement in Downtown.
"We want take advantage of the things that are happening down here in the new hotels, at the condos and apartments that are going up and everything going on between the Virginia Commonwealth University and MCV campuses," he said.
Vagabond's grand reopening on Friday will coincide with First Fridays in the Downtown arts district and will offer free appetizers and a cash bar.
"Just before the reopening, we will all pray together as a family, staff and for the restaurant," Mrs. Johnson said as she smiled at her son. "We try to put God first, and everything we do is from the heart."