African-American NFL quarterbacks working to turn ripple into wave
Fred Jeter | 9/15/2017, 11:08 a.m.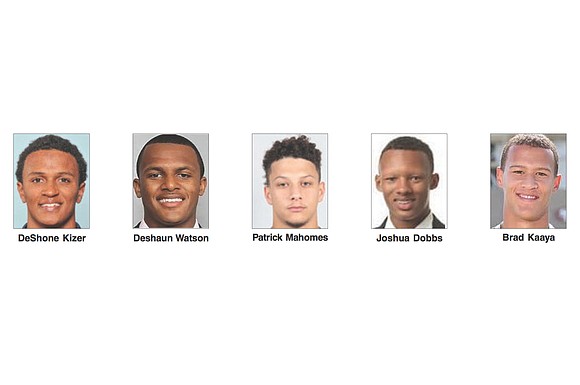 Cleveland Browns rookie DeShone Kizer burst onto the national spotlight while passing a football on Virginia soil.
Now the former University of Notre Dame quarterback is the latest addition to the NFL's select club of African-American starting quarterbacks.
While the player makeup in the NFL is about 70 percent African-American overall, the single difference-making position — quarterback — remains only about 16 percent African-American, counting newcomer Kizer.
The rookie had his ups and downs, but a few more downs than ups in his debut against the Pittsburgh Steelers in a 21-18 loss on Sunday, Sept. 10. Kizer passed for 222 yards and ran for a touchdown, but also tossed an interception and was sacked seven times.
From Toledo, Ohio, Kizer was a little known backup to Notre Dame quarterback Malik Zaire when the Fighting Irish rolled into Charlottesville on Sept. 12, 2015, to take on the University of Virginia. Despite being ranked No. 9 nationally, Notre Dame trailed 27-26 in the closing minute when Zaire went down with a season-ending ankle fracture.
Enter Kizer.
In his unanticipated college debut, Kizer hooked up with Will Fuller for a 39-yard touchdown pass with 12 seconds left, denying U.Va.'s then embattled coach, Mike London, a possible job-saving triumph.
Kizer took over as quarterback at Notre Dame for the rest of 2015 and all of 2016 and became the Cleveland Browns' second round draft pick after foregoing his senior year of eligibility in South Bend, Ind.
In training camp, Kizer beat out returnee Cody Kessler and trade acquisition Brock Osweiler to win the starting nod from Browns Coach Hue Jackson.
Sometimes be careful what you wish for, however.
Kiser becomes the 27th different starting quarterback for the Browns since 1999.
Long-suffering "Brownies" are hopeful Kizer fares better than Robert Griffin III, who suffered a shoulder separation on opening day a year ago.
Here's an update on the NFL's roster of African-American quarterbacks: