Armstrong Wildcats wild about wins
9/22/2017, 10:12 p.m.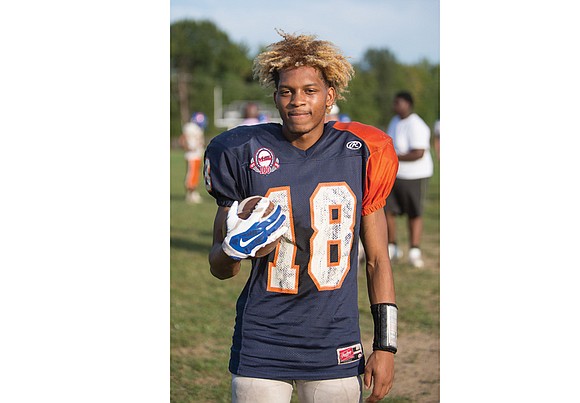 As coincidences go, one involving Armstrong High School would be hard to top.
Armstrong's football team — whose mascot is the Wildcats — often is operating what is known as the "Wildcat Offense."
The trendy formation, built on deception, helped the East End team slam the brakes on a 21-game losing streak Sept. 9 with a 24-14 victory at John Marshall High School.
Versatile senior Jaris Stewart put the "wild" in "Wildcat," piling up 153 yards passing and rushing while accounting for three touchdowns.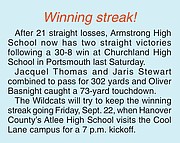 "Jaris is an athlete and he is the backbone of the team," said Armstrong's new coach, Kenny Painter.
It was Stewart's overdue seasonal debut. He suffered a broken collarbone during Armstrong's 7-on-7 spring drills and wasn't medically cleared until the game against John Marshall High.
"I'm more of a receiver than anything else, but I like to run and I like to throw," said Stewart, who plays with gloves on both hands.
Armstrong launched the Painter era with a 70-12 loss at Woodgrove High School in Loudoun County and a 27-20 setback at Richmond's Thomas Jefferson High School.
The Wildcat attack gets its name from the Kansas State Wildcats, who unveiled the sleight-of-hand attack in the 1990s under Coach Bill Snyder. It is non-traditional in that the center doesn't necessarily snap the pigskin directly to the quarterback.
Instead, two backs are lined up about 4 yards behind the center, either capable of receiving the snap with a run or pass option.
"The hike and go," Stewart explained.
At John Marshall, the Armstrong center snapped to Stewart sometime, while other times the snap went to the quarterback listed on the team roster, sophomore Jacqueal Thomas.
"Keeps them guessing," Stewart said of the opponents.
Coach Painter said the play is used about 45 percent of the time.
Stewart is nicknamed "OBJ," short for Odell Beckham Jr., and the reason is obvious once he removes his helmet. He wears his hair in the same style — a golden-topped Mohawk — like the glitzy New York Giants receiver.
Home on the road: Armstrong's scheduled home game on Sept. 15 against Churchland High was switched to Sept. 16 in Portsmouth. The change was because of the rally planned for Sept. 16 at the Robert E. Lee statue on Monument Avenue. School officials were told Richmond Police didn't have the manpower to provide security at the game at Armstrong.
Tough stretch: Armstrong's 21-game losing streak was spread over three seasons, starting with nine straight losses in 2015. The Wildcats were 0-10 last year and 0-2 at the start of this season. Armstrong was outscored 1,029 to 146 over the 21 defeats.
Oh brother: Last names alone won't do in recognizing the Wildcats. Two sets of brothers — Treyshaun and Deshaun Bailey and Marlin and Myles Osborne — figure heavily into both offense and defense.
"No. 1" receiver: Coach Painter reports sophomore receiver Oliver Basnight, wearing jersey No. 1, is drawing inquiries from NCAA Division I schools. Basnight had eight catches worth 267 yards in the first two games.
Small world department: Coach Painter is a former defensive back at Virginia State University. Two of his Trojans teammates were Jerome Jeter, now a first-year coach at George Wythe High School, and P.J. Adams, a first-year coach at Thomas Jefferson High School. Coach Painter's roommate at VSU was Gerald Glasco, the coach at Henrico High School.
What's more, Coach Painter was recruited to VSU by Lou Anderson, father of Armstrong's current activities director, Glenn Anderson.
Armstrong and VSU have the same team colors — blue and orange. Coach Painter said his Wildcats use some of the old uniforms and equipment from VSU.
"There are so many coaches and faculty here (at Armstrong) that are VSU alumni," Coach Painter said. "I call us the 'Baby Trojans.' "