Officials launch 'Respect Richmond' anti-violence campaign
9/29/2017, 6:20 a.m.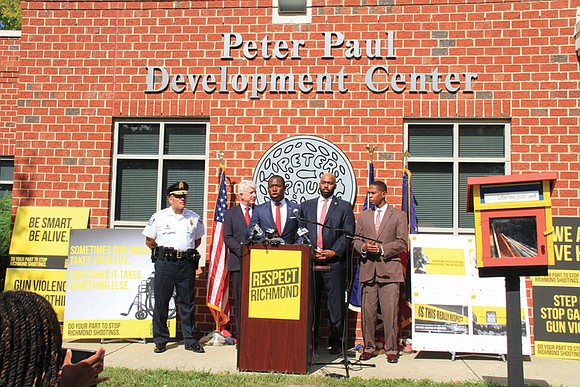 By Ronald E. Carrington
Virginia Attorney General Mark Herring and Richmond Mayor Levar M. Stoney launched a new campaign Wednesday to reduce gun violence and homicides in Richmond.
"Respect Richmond," a marketing and advertising campaign, will target "anti-violence and anti-retaliation messages to those at highest risk of committing gun violence or being a victim of gun violence," Mr. Herring said.
The announcement was made outside of the Peter Paul Development Center in Church Hill, where the attorney general and the mayor were joined by Richmond Police Chief Alfred Durham; Delegate Lamont Bagby, director of operations for the Church Hill center, whose district includes a part of Richmond; and Richmond Commonwealth's Attorney Michael Herring.
The "Respect Richmond" campaign includes a variety of ads and messages, including one showing an empty wheelchair. The tagline: "Sometimes gun violence takes your life. Sometimes it takes something else."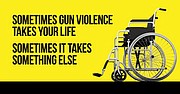 Along with running on traditional media like billboards, the ads will be focused mainly on social media and gaming systems like PlayStation and Xbox. They will be targeted toward people in specific neighborhoods where violence has occurred and where retaliation is most likely, officials said.
"We're going to reach out directly to those who need to hear this message and to those who can help solve the problem," the attorney general said. "We want to reach people where they are, and maybe in ways they aren't expecting. We need to reach a person — before they reach for a weapon — with a simple and direct message."
Chief Durham said the messages and graphics are bold by design to grab people's attention.
"They remind us of the awful toll that is inflicted on our residents — from the fear instilled every time they hear gunshots outside of their windows to the agony of grieving a loved one who has been shot or murdered," he said.
The Peter Paul Development Center sits between Mosby Court and Creighton Court, public housing communities where gun violence and homicides have risen during the last year. Richmond's juvenile court is just down the hill from the center on Oliver Hill Way.
Delegate Bagby called the campaign "a step in the right direction."
"However, we can't lose focus on all the other things we have to do, starting with breaking up pockets of poverty, supporting families, helping individuals find jobs and providing quality education," he said.
City Councilwoman Cynthia I. Newbille, who attended the event, lauded the campaign for targeting young people where they are.
"This new initiative provides us with an additional tool in our toolkit," said Ms. Newbille, whose 7th District includes Fairfield and Creighton courts. "Our young people are using media of all kinds. And while this will not be the sole answer to escalating crime rates, this will be part of the solution."