Villanova wins crown
Fred Jeter | 4/6/2018, 12:06 p.m.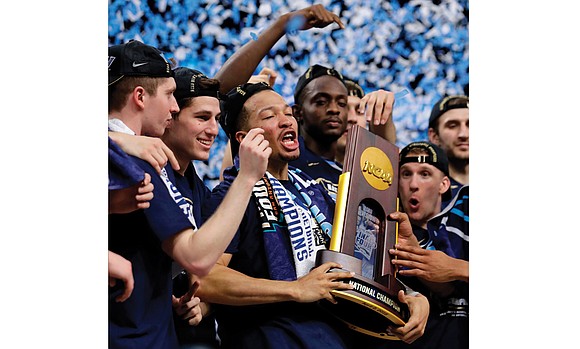 Villanova University has climbed to the top step of college basketball's highest staircase. And the Wildcats made it the old-fashioned way — minus any "one and done" elite, NBA-bound freshmen players.
The suburban Philadelphia school claimed its second NCAA title in three years on Monday night with a commanding 79-62 victory over the University of Michigan in the championship game played at the Alamodome in San Antonio.
It was much the same in the semifinals as Villanova drubbed the University of Kansas 95-79 with a Final Four record 18 3-pointers. 
Minus any quick-fix freshmen superstars, Villanova relied on a veteran cast in winning its six tournament games by an average of 18 points.
The closest it had to a "scare" was its 71-59 victory over Texas Tech in the Elite Eight. 
The Wildcats' top gun during the championship game wasn't even a starter. Coming off the bench, red-haired Donte DiVencenzo — called "Big Ragu" — won the Final Four Most Outstanding Player honors.
The red-shirt sophomore from Wilmington, Del., hit 10 of 15 shots from the field, including five of seven behind the arc, for 31 points — a Final Four record for a non-starter.
DiVencenzo joins former UCLA centers Bill Walton and Kareem Abdul-Jabbar as the only men to score at least 30 points while shooting 66 percent in a Final Four game.
Clearly, Coach Jay Wright has established Villanova as one of the nation's premier basketball programs despite no reliance on "one and dones" — meaning freshmen competing one college season before bolting to the NBA.
"We recruit kids that just want to be in college," Coach Wright told the media. "We want them to enjoy the college experience rather than saying 'I want to get out as soon as I can.' "
Among this year's NCAA "one and dones" are the University of Oklahoma's Trae Young, the University of Texas' Mo Bamba, the University of Arizona's Deandre Ayton and Duke University's Marvin Bagley and Wendell Carter.
Talented as they are, all watched the NCAA Final Four from home.
Perennial national powers Duke, Kansas, UCLA and the University of Kentucky are among those most active on the "one and done" market. Duke prevailed in 2015 with three "one and dones" — Jahlil Okafor, Tyus Jones and Justise Winslow.
Villanova is no flash in the pan. The Wildcats won the 2016 title 77-74 over the University of North Carolina at Chapel Hill on Kris Jenkins' last-second shot.
The Wildcats have won 136 games over the last four years, claiming two NCAA crowns and three Big East titles.
Coach Wright becomes just the third active coach with more than two NCAA championships. Others are Duke Coach Mike Krzyzewski with five titles and Coach Roy Williams with three titles from Kansas and UNC combined.
Only 14 coaches in NCAA history have multiple titles, led by UCLA's Coach John Wooden with 10.
Villanova figures to lose two underclassmen to the NBA. Juniors Jalen Brunson and Mikel Bridges are expected to submit their names for this June's draft.
Villanova also stands out among NCAA hoops champs for an absence of big-time football on campus.
Since 1957, the lone basketball champions without top-tier football are University of Loyola-Chicago in 1963, Marquette University in 1977, Georgetown University in 1984 and Villanova in 1985, 2016 and 2018.
La Salle University, in 1954, is the only other Philadelphia area school to win the NCAA championship since the tournament began in 1939.
This year's NCAA tournament will be remembered for its upsets and underdogs.
No. 16 seed University of Maryland-Baltimore County stunned the University of Virginia, which was ranked No. 1, in the first round. No. 13 University of Buffalo whacked No. 4 University of Arizona. And 11th seed Loyola danced all the way to the Final Four.  
This was the year anyone could beat anyone, unless that "anyone" was Villanova.