Preston Beverly moves from No. 2 to No.1 as coach at Richard Bland College
Fred Jeter | 4/13/2018, 9:19 a.m.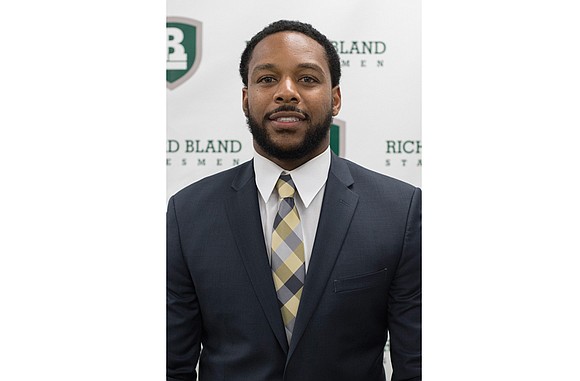 Richard Bland College has chosen Preston Beverly to usher its basketball program into the National Junior College Athletic Association Division 1.
The two-year, residential college has competed in the NJCAA Division II since 2013-14, when the sport was revived at the Petersburg area campus by coach and Athletic Director Chuck Moore.
After five banner seasons resulting in an overall 126-42 record and the 2015 Division II national title, Coach Moore has resigned to pursue other opportunities.
Coach Beverly served as Coach Moore's assistant during the past three seasons. The Statesmen finished 22-11 this season, the runner-up in Region 10.
The 6-foot-6 Coach Beverly, a former player at Virginia Military Institute, previously served as head coach at Lincoln College of New England, Conn., where he posted a .727 winning percentage from 2012 to 2015.
Coach Beverly's father, Randy Beverly, is a former NFL defensive back most famous for his two interceptions in the New York Jets' win over the Baltimore Colts in Super Bowl III.
Richard Bland College has provided young athletes with another option in which to continue basketball and academics.
A top performer on the 2015 national championship team was Tavon Mealy out of Richmond's Armstrong High School. Following two strong seasons at Richard Bland, Mealy transferred to Virginia Union University and became a two-year regular.
Richard Bland's basketball roster this past season included Tre Patterson from Richmond's John Marshall High School, Stanley Taylor of Petersburg High, Wayne Clevert of Henrico County's Mills Godwin High, Ken Southerland of Henrico's Varina High and Jordan Cross of Midlothian High in Chesterfield County.
From 1976 to 1994, Richard Bland College played basketball under Coach Cham Pritchard. The sport went dormant there until 2013.