Armando Bacot headed to UNC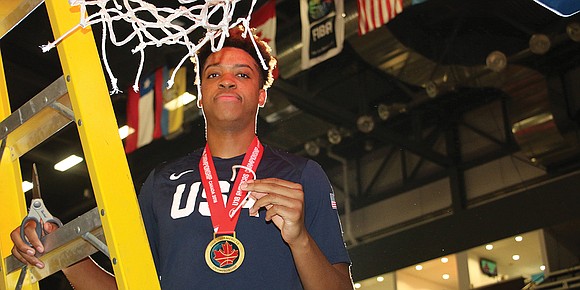 Armando Bacot is the latest Richmond area basketball standout to say "yes" to the University of North Carolina's historically successful program.
In a video tweet Aug. 16, the 6-foot-10 Bacot announced he would enroll as a freshman in 2019 at the ACC juggernaut in Chapel Hill.
Earlier this year, Bacot was named Richmond Metro Player of the Year. He was playing for Trinity Episcopal School on Richmond's South Side, but will spend his senior year at IMG Academy in Bradenton, Fla.
Bacot is ranked by ESPN as the 26th best high school basketball player at any position among the Class of 2019 and the seventh best center.
Bacot had narrowed his impressive list of college choices to UNC-Chapel Hill, Duke University, University of Georgia, Oklahoma State University and Virginia Commonwealth University.
In the past, at least five area players have chosen UNC, a program that has won six NCAA champions and had 20 NCAA Final Four entries.
Local players preceding Bacot to UNC:
• John Kuester, Benedictine, UNC 1973 to 1977.
• Keith Valentine, Thomas Jefferson High School, UNC 1975 to 1976; transferred to Virginia Union University.
• Kenny Harris, Petersburg High School, UNC 1989 to 1991; transferred to VCU.
• Ed Davis, Benedictine, UNC 2008 to 2010; helped UNC to 2009 NCAA title.
• Kenny Williams, L.C. Bird High School, UNC 2016 to present; helped UNC to 2017 NCAA title.
VCU is still in the hunt for a highly regarded big man in the Class of 2019. Quadus Wahab, a 6-foot-10 rising senior at Flint Hill Academy in Oakton in Northern Virginia, is being courted by Rams Coach Mike Rhoades.