'Be conscious … of making a positive impact,' VCU fall graduates told
By Thomas Kidd | 12/13/2018, 6 a.m.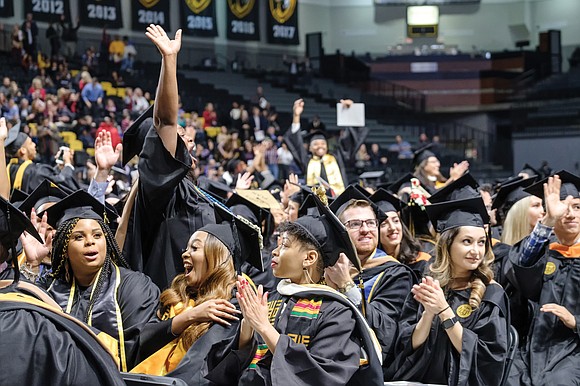 Christy Coleman, chief executive officer of the American Civil War Museum, offered graduates firsthand insight on what their future paths may hold during Virginia Commonwealth University's fall commencement ceremony last Saturday at the E.J. Wade Arena at the Siegel Center.
"Congratulations to all of you. You've made it," Ms. Coleman told the more than 2,900 graduates. "But the inevitable — what happens next — looms," she added.
In addition to the immediate concerns of securing employment and beginning the process of paying off student loans, the keynote speaker urged graduates to allow room in their straight-and-narrow plans to discover their passion and purpose.
The historian then shared the messy journey she traversed to ultimately find her passion.
"I wanted to attend the Marshall-Wythe School of Law at The College of William & Mary, study constitutional law and make plenty of money," she told those in attendance.
However, one summer working as a living-history interpreter in Colonial Williamsburg where she portrayed an auctioned slave redefined her idea of herself and success.
"What I recognized was that I was giving voice to the voiceless — that my presence was challenging the fiction we tell ourselves about our nation's founding and that making money could no longer be my prime motivator," Ms. Coleman said.
Being a voice for the voiceless continues to fuel her as head of the museum at historic Tredegar on Richmond's riverfront. Since taking the position in 2008, Ms. Coleman has been successful in asserting the perspective of slaves and their immediate descendants alongside the usually whitewashed narratives of the Confederacy, the Civil War, Emancipation and Reconstruction. In fact, earlier this year, Time magazine featured Ms. Coleman on a list of "31 People Who Are Changing the South."
In addition to her work with the museum, the 54-year-old Hampton University alumna also presided over Richmond Mayor Levar M. Stoney's appointed Monument Avenue Commission that made recommendations about the monuments to Confederates along the tree-lined street.
The commission recommended that the statue of Confederate President Jefferson Davis be removed and that contextual signs be added to the four remaining Confederate statues. No changes, however, have been undertaken.
"Whether you find yourself on the straight and narrow, or whether you find yourself in situations so messy that you can't find your way out, be conscious and desirous of making a positive impact in the lives of others," Ms. Coleman told the graduates.
VCU President Michael Rao echoed the keynote message, charging graduates to take what they have learned and go out and transform the world.
"James Baldwin said, 'The world is before you, and you need not take it or leave it as it was when you came.' As you enter the world, I ask you to keep those words in mind," Dr. Rao said.
During the ceremony, Ms. Coleman was awarded an honorary degree, acknowledging her outstanding contributions to society.
Also at the ceremony, VCU recognized Darlene B. and George P. Emerson Jr. as well as Laura B. and Harold E. Greer Jr. with the Edward A. Wayne Medal that honors individuals who have made outstanding contributions or provided exemplary services to VCU. The Emersons were recognized for their support of the VCU Massey Cancer Center; the Greers for demonstrating steadfast financial support and as faculty members. Dr. Greer was VCU's first professor of Latin American history and Ms. Greer taught courses in the VCU School of Business.
The Presidential Medallion, honoring the contributions of a member of the university community, was awarded posthumously to Dr. Jan Chlebowski, a professor in the Department of Biochemistry and Molecular Biology who also served as the School of Medicine's associate dean for graduate education. Dr. Chlebowski, who taught at VCU for 39 years, died on March 10 at the age of 74. His brother, Dr. Rowan Chlebowski, accepted the honor.