Jermaine Marrow brings excitement — and big fan numbers — to Hampton Pirates
Fred Jeter | 2/9/2018, 8:51 p.m.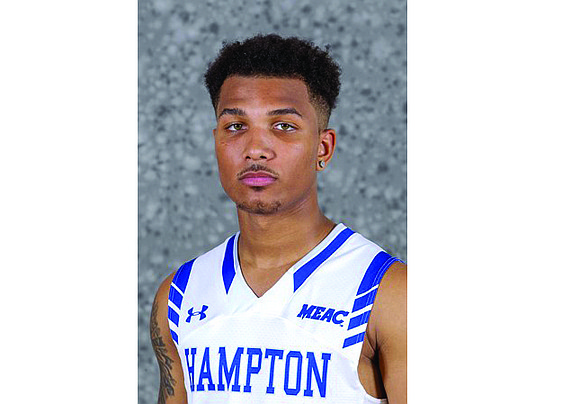 Two of the brightest subjects regarding Hampton University basketball are Jermaine Marrow and home attendance.
It's reasonable to assume the two are linked.
Marrow, aka "Mayno Show," has emerged as one of the most exciting players in Virginia and in MEAC.
Meanwhile, HU Convocation Center attendance has become tops in all of HBCU hoops.
"When you consider scoring and playmaking, there aren't many guards across the country putting up better numbers than Mayno," Pirates Coach Edward "Buck" Joyner Jr. said.
The dynamic 6-foot sophomore guard from Heritage High School in Newport News is a prolific scorer, both from a distance and in attacking the rim. But not to be confused as some "me first" ball hog, he's just as eager to give the ball up.
"Feels good to make your teammates happy," Marrow told the Free Press.
Starting this week, Marrow, who wears jersey No. 2, was tied for second in MEAC scoring (19.9 points per game) and second in assists (5.6).
"This is all a little different for me. I always felt I could score," he said. "I really wasn't a point guard until I came here."
HU fans must like what they see.
With Marrow scoring 20 points and passing for four assists, the Pirates drew 4,515 fans on Jan. 31 for their thrilling 70-59 overtime victory over Coppin State University.
For the season, Hampton University averages 3,762 fans per game, by far the best among MEAC members. Second in attendance at 2,311 is North Carolina A&T State University.
Hampton also would rank first in fans in the other HBCU Division I conference, the Southwestern Athletic Conference, or SWAC. University of Arkansas at Pine Bluff leads that league with an average of 3,550 fans per game.
"It's a lot of things," Coach Joyner said about HU drawing large crowds. "But it helps that we've put a good team out there for years."
To attract attention, HU offers numerous promotions such as Greek Night, Throw-Back Night, Caribbean Night and Back to School Night.
"We try and be creative," Coach Joyner said. "Also we do a lot of outreach with our players in the community."
HU moves to the Big South Conference next year. Liberty University leads that league in attendance this season with 1,955 fans per game, only about half of Hampton's average turnout.
Since Joyner became coach in 2009, HU is 140-134 overall under Coach Joyner and 86-52 in MEAC. The Pirates have been to postseason tournaments each of the past four seasons — the NCAA's in 2015 and 2016 and the College Basketball Invitational in 2014 and 2017.
Hampton won the MEAC Tournament in 2011, 2015 and 2016 on Coach Joyner's watch, achievements lending to season ticket sales.
This year, the Pirates are 10-14 overall and 5-4 in MEAC, with plenty of time to hit the gas prior to the conference tournament March 5 through 10 at Norfolk Scope.
"We want to be peaking by the time we get to the tournament," Coach Joyner said.
While recruiting can be costly, time consuming and often frustrating, it was practically a breeze regarding Marrow.