Philadelphia flying high after Eagles claim victory in Super Bowl LII
Fred Jeter | 2/9/2018, 9:25 p.m.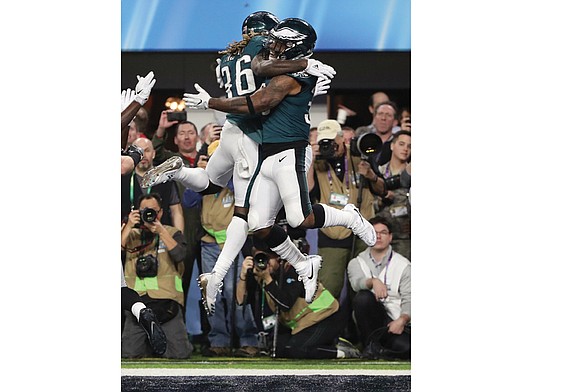 Philadelphia counts among its top heroes Ben Franklin. And the most famous date in Philadelphia is July 4, 1776, the date of the signing of the Declaration of Independence.
Philadelphians now can add to its heroes Nick Foles and Brandon Graham and the date Feb. 4, 2018 – the night the Philadelphia Eagles won their first Super Bowl and the coveted Lombardi Trophy.
Coach Doug Pederson's squad prevailed Sunday, ousting the long-dominant and favored New England Patriots 41-33 in Minneapolis before a worldwide television audience.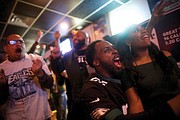 The Eagles conquered the Patriots behind a back-up quarterback, Foles, and an opportunistic defense, led by the relentless Graham, that showed up when it absolutely counted.
Foles, a journeyman who last year sat on the bench with the Kansas City Chiefs before becoming a free agent, inherited the Philadelphia quarterback job in mid-December following a knee injury to then-NFL Player of the Year candidate Carson Wentz.
Against the Patriots in Super Bowl LII, Foles looked like Wentz — and then some, completing 28 of 43 passes for 373 yards and three touchdowns. He even caught a touchdown pass of his own on a razzle-dazzle, fourth and goal play that fathers will tell their sons about for generations to come.
"We've played this game since we were little kids. We've dreamed of this moment," Foles, who was named MVP of the Super Bowl, told the media.
"There are plenty of kids watching this game now and dreaming about this moment. Someday, they'll be here."
The Eagles defense was perforated by iconic New England quarterback Tom Brady for a playoff record 505 aerial yards and 623 yards total.
It appeared Brady, the master of shocking comebacks, was eager to break Philadelphia's tender heart when Graham got in his way with 2 minutes left and the Eagles gripping an uneasy 38-33 lead.
Out maneuvering his blocker at the line of scrimmage, Graham chased down Brady, knocked the pigskin loose from Brady's hand – called a "strip sack" – and the Eagles' Derek Barnett recovered.
The turnover set up a Jake Elliott field goal, providing an eight-point cushion with 1:05 left.
Still, Brady drove the Patriots to midfield and wasn't defeated until a desperation, last-gasp pass on the final play fell incomplete – just barely – in the Philadelphia end zone. The whole city of Philadelphia finally exhaled.
About that time, delirious folks back in Philadelphia declared Center City – Broad Street at City Hall – party central. Thousands of people chanted, danced, hugged and kissed in the streets. They sang "Fly, Eagles, Fly" and "Gonna Fly Now" (the theme from the movie "Rocky") over and over.
They shimmied up poles, especially 15-foot street signs appropriately painted in green and white Eagles colors.
Sure, there was a bit of damage. But there was much love in the City of Brotherly Love.
One young man, overcome with emotion, even went so far as to propose marriage. His beloved accepted the invitation — while still holding a bottle of an adult beverage.
On Feb. 4, 2018, the NFL record book will show the Philadelphia Eagles and their legion of fans celebrated a crown of their own all the way from frozen Minneapolis to happy Broad Street in Philly.
Give them time to kick up their heels. They'll worry about rematches later.