Northam inauguration set for Jan.13
1/5/2018, 4:23 p.m.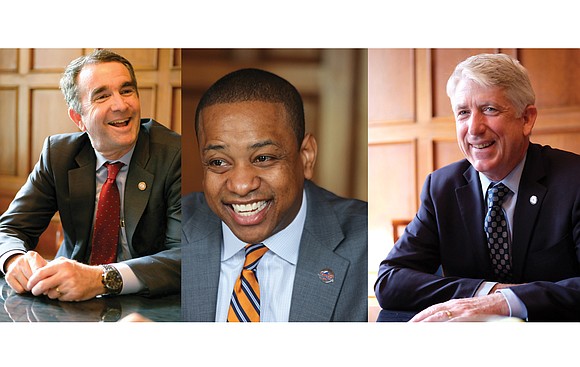 The inauguration of Virginia's 73rd governor, Democrat Ralph S. Northam, is free and open to the public.
He will be sworn in at noon Saturday, Jan. 13, at an outdoor ceremony in Capitol Square.
Also being sworn in are Lt. Gov.-elect Justin Fairfax, the state's second African-American elected to statewide office, and Attorney General Mark Herring, who was re-elected to a second four-year term.
Both also are Democrats.

The theme: "The Way Ahead," signifying "a vision for leading a Virginia with bipartisan, common sense solutions that lift up all of its people," according to the inaugural committee.
Tickets for the ceremony are available on a first-come, first-served basis by request at www.vainauguration2018.com/ceremony-tickets.
The Inaugural Parade will follow the ceremony, with units representing Virginia's diverse communities. Among the participants will be the Virginia State University Trojan Explosion Marching Band, the Charlottesville Cardinals Wheelchair Basketball Team and Bolivian dancers from Northern Virginia.
The parade is free; no tickets are required. The route runs east from Grace Street and will circumnavigate Capitol Square.
The Inaugural Ball will take place at 8 p.m. that evening at Richmond's Main Street Station train shed. Tickets are $250 and available at www.vainauguration2018.com/inaugural-ball.
On Thursday, Jan. 11, the Richmond, Henrico, Chesterfield and Hanover branches of the NAACP are hosting a pre-inaugural reception for Gov.-elect Northam, Mr. Fairfax and Mr. Herring to meet members of many African-American organizations, churches and community organizations that played a significant role in their election on Nov. 7.
The reception will be held from 4 to 7:30 p.m. at the Hilton Richmond Downtown, 501 E. Broad St.
Other sponsors include the Richmond Crusade for Voters, the Baptist General Convention, Third Street Bethel A.M.E. Church, Virginia Alliance Against Mass Incarceration, People Demanding Action, Food and Water Watch, Black Votes Matter and Every Vote Counts.
Individual tickets are $125, or $200 per couple. Details and ticket purchase: www.actionnetwork.org/ticketed_events/indiv-2018-virginia-gubernatorial-pre-inaugural or call (804) 647-7087.