VCU's 'pass master' Johnny Williams ranks among the nation's top players in total assists
Fred Jeter | 1/5/2018, 4:12 p.m.
Jonathan "Johnny" Williams is listed as a point guard in Virginia Commonwealth University's basketball lineup, but passing guard better defines his well-crafted skill set.
The 6-foot-1 senior is no stranger to double-digit scoring, but it's his creative, unselfish assists that draw the most respect on the floor and oohs and ahhs from the bleachers.
To borrow a gym rat term, the native Richmonder "spreads the sugar," meaning he gives sweet scoring chances to his teammates.
"If it's open," Williams said recently in a postgame interview about shooting, "I'll shoot it. But I just like seeing others happy."
He went on to offer this self-description: "I'm more of a pass first point guard, but speedy and can play defense."
Starting the new year for the 9-5 Rams, VCU's "pass master" Williams was leading the Atlantic 10 Conference in assists with 6.5 per game, well ahead of runner-up C.J. Anderson of the University of Massachusetts with 5.8 assists per game.
Williams ranks in the top 15 nationally for total assists and average per game.
Much of VCU's offense starts with Williams' jet-like penetration into the lane, often leaving defenders grasping at empty air.
He's also making his mark among VCU's all-time lead ball handlers. His current season assists average ranks third in the Rams record books behind Dave Edwards (8.5 per game, 1971-72) and Keith "Tiny" Highsmith (7.9, 1974-75).
VCU's career assists leader is Eric Maynor with 674 from 2005 to 2009. Joey Rodriguez is the single-game leader with 17 in the Rams' 2010 win over the University of North Carolina-Greensboro.
Along with his clever passing and playmaking, Williams averages 10.1 points and 2.4 rebounds and hits 81 percent of his free throws. You foul him, you pay.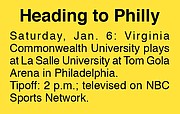 Williams has such command of the Rams' high-tempo offense (78 points per game) that he's almost like an assistant coach — albeit wearing jersey No. 10 — under first-year Coach Mike Rhoades. 
"If Johnny's going to talk in the huddle, or if Johnny's going to talk in the locker room, I'm going to be quiet because (his team members) are going to listen to him," Coach Rhoades said. "The best coached teams are player-led teams, reaffirming the message from the coach."
Williams also ranks with the most athletic Rams. He posted the squad's best time (3.1 seconds) for the three-quarter floor dash and boasts a vertical leap of 41 inches.
The son of Sharon and Stan Williams grew up in Richmond as a VCU fan, but moved to New York with his family during his early teen years.
While in Richmond, his athletic and spiritual mentors included former VCU great Calvin Duncan, now pastor at Faith & Family Church on Walmsley Boulevard.
Williams went on to sparkle at St. Benedict's Preparatory School in Newark, N.J., drawing much college attention. On a recruiting visit to VCU, he was present March 2013 at the Siegel Center when the Rams routed Butler University 84-52.
It was a convincing performance if ever there was one.
Such New York area schools as Seton Hall, Fordham, Rutgers and Wagner pursued Williams at St. Benedict's. But when it came time to choose, the "pass master" leaned toward Richmond.
Passing on his hometown school was one pass even Johnny Williams wouldn't make.