Petersburg's Quinton Spain starting for Tennessee Titans
1/13/2018, 11:24 a.m.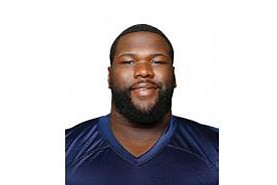 Petersburg can wrap its arms around the NFL Tennessee Titans.
Former Petersburg High School standout Quinton Spain is now the starting left guard — jersey No. 67 — for a Titans squad jubilant about a come-from-behind, 22-21 playoff victory Jan. 6 against the Denver Broncos.
Spain provides much of the protection for the Titans' two former Heisman Trophy headliners — quarterback Marcus Mariota and tailback Derrick Henry, each of whom starred against the Broncos.
After leaving Petersburg High, where he also played basketball, the 6-foot-5, 340-pound Spain became a two-time, All-Big 12 offensive lineman at West Virginia University.
Undrafted, he signed as a free agent with the Titans in 2015 and became a full-time starter in 2016.
Tennessee (10-7) advances to the AFC semifinals against the New England Patriots on Saturday, Jan. 13. The game will be broadcast at 8:15 p.m. on CBS.
Spain is at least the fifth Petersburg High player to reach the NFL. Others have been Earl Hawkins (1964-65), Ricky Hunley (1984-90), Jerome Mathis (2005-08) and Kendall Langford (2008-17).