What to look for this session
1/13/2018, 10:18 a.m.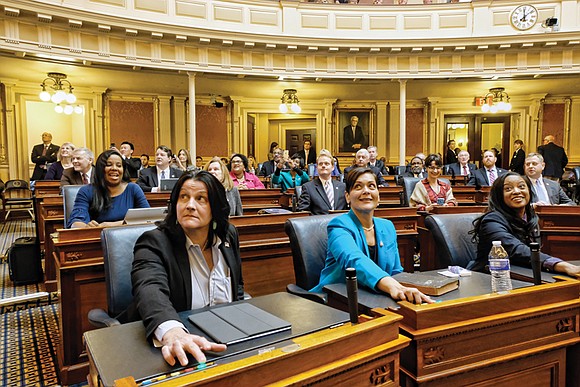 Even with Republicans still in control of both chambers, November's election results are expected to dramatically reshape the General Assembly's culture.
Previously dominated by older white men, the legislature is now significantly more diverse. New members include 12 women, including Virginia's first Latina and female Asian-American delegates. Delegate Danica Roem will be the state's first transgender lawmaker, and Delegate Dawn M. Adams will be the first openly lesbian member in the House.
The Virginia Legislative Black Caucus will have 20 members, a record high.
Several new legislators have pledged to upend business-as-usual in Richmond, pushing an unapologetically progressive agenda and serving as a check on some of the state's powerful corporate interests — energy giant Dominion Energy in particular.
Whether these new members cause tension with some business-friendly senior Democratic lawmakers, or with Gov.-elect Ralph S. Northam's pledge for bipartisan cooperation, will be a key thing to watch as the session advances.
The General Assembly session will be a chance for Gov.-elect Northam to push to keep promises he made during his campaign, which opponents often criticized as light on specifics.
Gov.-elect Northam — a physician who lives in Norfolk and served as a state senator and lieutenant governor — has promised to unite Republicans and Democrats to pass a bipartisan agenda on economic development, health care and education. His top priorities include creating a new free community college program, overhauling standardized testing in public schools and increasing access to early education. He also promised legislation to improve economic development. Perhaps his biggest test will be convincing the General Assembly to expand Medicaid eligibility to low-income adults.
Gov.-elect Northam also has endorsed legislation that would implement universal background checks for gun purchases.
Hot button social issues that come up each year, like gun and abortion laws, will be heard in debate on several already-filed bills. But this year's shift in partisan makeup could make things more interesting than they've been in the past.
With razor-thin GOP majorities in both chambers and Democratic Lt. Gov.-elect Justin Fairfax serving as a Senate tie-breaker, bills sponsored by Democrats won't face quite the same uphill climb. Democrats also will have greater representation on committees, making some priorities more likely to advance to the full chambers.
On gun control measures, for example, Democratic lawmakers have expressed hope that even a modicum of GOP support could get some legislation through. In both the House and Senate, bills have been filed that would essentially ban bump stocks, the device used by a gunman in Las Vegas to carry out the deadliest mass shooting in modern U.S. history.
Another bill, from Sen. Barbara Favola, a Democrat from Northern Virginia, would allow local ordinances prohibiting firearms at demonstrations and protests. Such a bill was recommended by two independent reviews of what went wrong during an August rally in Charlottesville, where attendees of a white nationalist rally that descended into chaos were allowed to openly carry weapons, including assault-style rifles.
On issues such as reproductive health, paid family leave and equal pay, the new crowd of women lawmakers could shape the debate.
Lawmakers also will tackle Virginia's biennial $100 billion-plus state budget this session while facing pressure to increase teacher pay and help shore up the Washington area's struggling subway system. Gov. McAuliffe presented a budget proposal to state lawmakers last month that includes spending for Medicaid expansion, pads the state's rainy day fund and gives state workers a 2 percent raise. The spending plan for fiscal years 2019-2020 will serve as a starting point for negotiations.