'Tomorrow can be better'
Gov. Ralph S. Northam is sworn in as Virginia's 73rd chief executive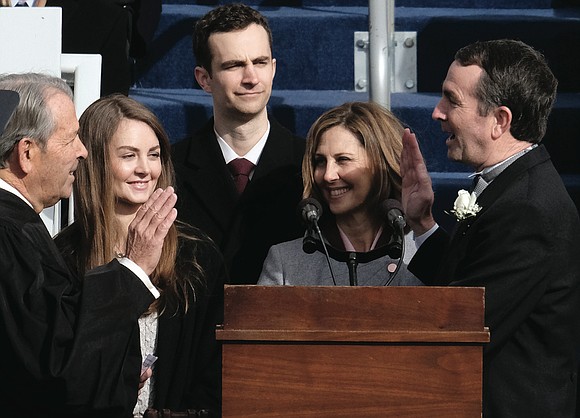 "Virginians didn't send us here to be Democrats or Republicans. They sent us here to solve problems."
So said Ralph Sherer Northam on Saturday after he was sworn in as Virginia's 73rd governor with his wife, Pam, and children beside him.
Gov. Northam spoke of the need to use goodwill and a common effort "to leave this place better than we found it" at a ceremony that showcased diversity, from African-Americans singing patriotic songs to Native American dancers blessing the Capitol grounds and Muslim Boys and Girls Scouts leading the Pledge of Allegiance.

Optimism and a show of good will radiated at the event that drew about 4,000 people, including 10 former governors, judges, members of Congress and ordinary citizens.
The program also featured Justin E. Fairfax taking the oath of office as the state's second African-American lieutenant governor and Mark R. Herring being sworn in for his second term as attorney general.
A pediatric neurosurgeon and politician, Gov. Northam, 58, brings unusually varied experience in taking over from his fellow Democrat, former Gov. Terry McAuliffe, whose boisterous, enthusiastic and outgoing manner stands in sharp contrast with his successor's more low key and less flashy style.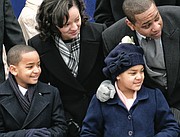 Before becoming a doctor, the man from the Eastern Shore worked on deep sea fishing boats, captained a ferry to Tangier Island and served in the Army. And even while immersed in his medical practice, he served in the state Senate and most recently as lieutenant governor, creating relationships on both sides of the aisle.
Even while lacking the flash of his predecessor, Gov. Northam is comfortable in his new role, noting in Saturday's address, "You don't have to be loud to lead."
Citing lessons he learned from his parents and his patients, he promised to take an approach to governing that would combine a progressive agenda with a new effort to cut through the partisan divide to forge "the way ahead."
Whether his approach will work remains to be seen. Despite a big jump in Democratic numbers in the General Assembly as a result of November's elections, Republicans still hold skimpy majorities in both the House of Delegates and the state Senate. Already, they are using their majority to kill legislation the new governor supports.
Just two days after he was sworn in, a Republican-controlled Senate committee killed off a package of gun control measures that Gov. Northam had said offered "a smart approach" to keeping guns out of the hands of people who should not have them.
Other bills on the Democratic agenda have been sent to a Republican-heavy House Rules Committee to die.

Nor is it yet clear that Gov. Northam will have any more success than his predecessor in getting the Republican majorities to agree to a federally paid expansion of Medicaid to low-income working adults who cannot afford health insurance. Republicans appear ready to overhaul the proposed 2019-20 budget that is built on Medicaid expansion rather than approve Gov. Northam's top priority, as it was for Gov. McAuliffe.