The death of a giant
1/26/2018, 1:52 p.m.
Dr. Wyatt Tee Walker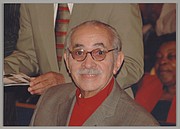 We have lost a giant with the death this week of Dr. Wyatt Tee Walker.
The 88-year-old Dr. Walker, who was in an assisted living facility in Chester, served as Dr. Martin Luther King Jr.'s chief of staff, strategizing and organizing some of Dr. King's most successful civil rights demonstrations.
Like Dr. King, he was a man of faith and courage, leading people against the tyranny of government-sanctioned segregation in a nation that espoused the rights of freedom and individual liberty. He was unafraid to stand up against oppression even in the face of arrest and threats of violence. 
The Virginia Union University graduate and preacher lent his voice and commitment to nonviolent action that affected and changed Petersburg, Richmond, New York and the nation. He understood that the key to change was at the ballot box and that it depended on African-Americans taking up the cause of voting rights, among other civil rights, and turning out at the polls to make a difference in the course of the nation.
Because of Dr. Walker's efforts in piecing together Dr. King's notes pirated out of the jail in Birmingham, the nation became inspired by Dr. King's immortal words: "Injustice anywhere is a threat to justice everywhere. We are caught in an inescapable network of mutuality, tied in a single garment of destiny. Whatever affects one directly, affects all indirectly …"
The University of Richmond, under the leadership of Dr. Ronald A. Crutcher, is fortunate to be the repository of Dr. Walker's many papers, photos, sermons and other documents that are available for public review and scholarly research.
Even after Dr. Walker's death, we can continue to learn and grow from this lion of the movement and answer today's call to action on social justice issues that continue to plague our city and nation. If we act, then Dr. Walker's and Dr. King's work will not have been in vain.