O'Quinn taking his talents to the Indiana Pacers
Fred Jeter | 7/16/2018, 9:22 a.m.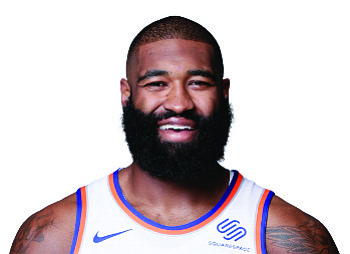 Kyle O'Quinn, the last player from an HBCU to be drafted into the NBA, is changing his low-post address.
The 6-foot-10 former Norfolk State University center has left the New York Knicks (his hometown team) after three seasons to join the Indiana Pacers.
O'Quinn, who averaged 7.1 points off the bench this past season for the Knicks, has reportedly signed a one-year deal worth $4.5 million.
A native of Jamaica, N.Y., O'Quinn rose to prominence in 2012 leading NSU to a stunning NCAA tournament upset over Missouri, then singing a few bars of "One Shining Moment" in his postgame CBS television interview.
O'Quinn, MEAC Player of Year as an NSU senior, became the 49th overall NBA pick of the Orlando Magic later that spring. O'Quinn played with the Magic from 2012 to 2015, then with the Knicks from 2015 to 2018.
Athletes from historically black schools have become an endangered species in the NBA. The short list of current NBA players with HBCU pedigrees includes O'Quinn and current Philadelphia 76er Robert Covington, undrafted coming out of Tennessee State in 2013.
Among the highest drafted players ever from HBCU ranks was Virginia Union's Charles Oakley, taken ninth overall by Cleveland in 1985.
Winston-Salem State's Earl Monroe was the second overall pick in 1967 by the Baltimore Bullets. Prairie View A&M's Zelmo Beaty was the third overall pick in 1962 by St. Louis.