NSU upgrading turf at Dick Price stadium
Fred Jeter | 7/26/2018, 6:03 a.m.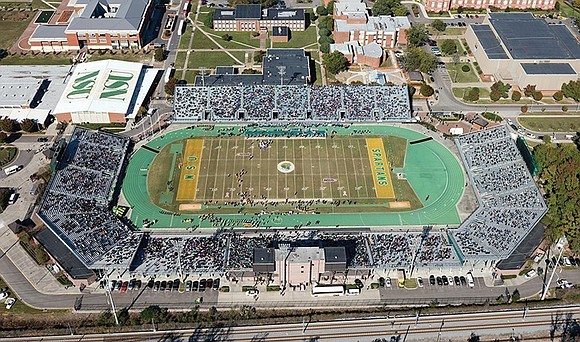 The footing, if not the football, figures to be much improved this fall at Norfolk State University.
R.A.D. Sports of Rockland, Mass., has been hired to replace the current grass field at NSU's Dick Price Stadium with a synthetic surface manufactured by Shaw Sports Turf.
It's the same type of surface used on NFL fields in Baltimore, Cincinnati and Tampa, Fla. Turf from the Georgia-based company is used locally at the 12-field River City Sportsplex in Chesterfield County.
NSU's stadium makeover will include updated end zone designs, as well as new team areas between the 25-yard lines and redeveloped drainage. The durable turf will enable the Spartans to practice on the field during the season and allow the university to host other activities on the field without damaging the surface.
NSU has been playing on natural grass at Price Stadium since 1997.
The upgrade isn't cheap. The contracted cost: $1.38 million.
The upgrades should be ready for NSU's Labor Day Classic opener Sept. 1 against Virginia State University.
Then national powerhouse James Madison University will play the Spartans in Norfolk on Sept. 8.
The Spartans struggled badly at home last fall under third-year Coach Latrell Scott. NSU was 4-7 overall and 1-5 at home, with losses to VSU, the College of William & Mary and Hampton, Savannah State and North Carolina A&T State universities.
Especially dreary losses were to VSU in the Labor Day Classic before 10,221 fans, to archrival Hampton before a crowd of 6,149, and to MEAC's Savannah State 27-9 before a homecoming crowd of 17,218.