Team Loaded wins AAU Nationals
Fred Jeter | 7/26/2018, 6:01 a.m.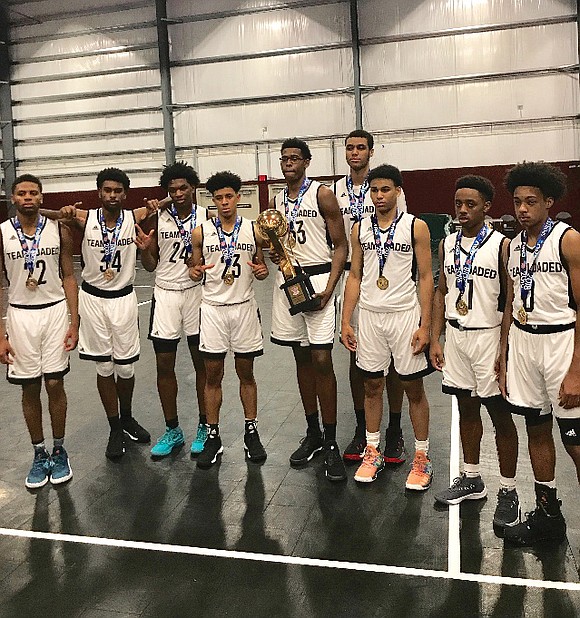 Team Loaded continues to feast on a buffet of victories without tasting defeat.
Under Coach Rodney Gore, the Richmond-based U-15 basketball squad is 36-0 overall after winning the AAU Nationals on Sunday in Orlando, Fla.
Led by A.J. Williams' 18 points and Efton Reid's 13 rebounds, Team Loaded defeated Gauchos of New York City 57-52 in the final. Team Loaded went 8-0 in Orlando.
Earlier this season, Team Loaded won the Adidas Nationals in New York City. The team also won Adidas qualifiers in Washington and Atlanta.
Team Loaded concludes its season this weekend with its own invitational tournament July 28 and 29 at U-Turn Sports on Maywill Street in Richmond.
All of the team's players are rising high school sophomores.
Team Loaded has height aplenty with 6-foot-11 Reid of The Steward School and 6-foot-10 Roosevelt Wallace of John Marshall High School.
Williams and Jason Nelson are students at Varina High School in Henrico County, whose basketball team is the state Division 5 champion.
Lamonta Ellis attends Hopewell High School; Evan Castellanos, Benedictine; Isaiah Simmons; The Steward School; Mike Gray, James Monroe High School in Fredericksburg; and Greg Melvin, Cape Henry Collegiate in Virginia Beach.