One of the last surviving Navajo Code Talkers dies
ST. GEORGE, Utah | 6/21/2018, 4:34 p.m. | Updated on 6/23/2018, 4:32 p.m.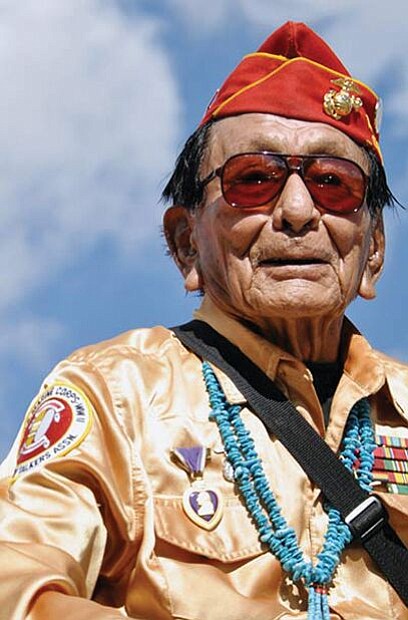 Samuel Tom Holiday, one of the last surviving Navajo Code Talkers, died in Southern Utah on Monday, June 11, 2018, surrounded by family members who raised money through a crowdfunding campaign to be by his side.
He was 94.
Mr. Holiday was among hundreds of Navajos who used a code based on their native language to transmit messages during World War II. The Japanese never broke it.
He was 19 when he joined the Marine Corps and became part of operations in several locations across the Pacific during the war, according to The Spectrum. A mortar explosion left him with hearing loss, but he would later tell family that he always felt safe during battle because of a pouch around his neck holding sacred stones and yellow corn pollen.
Mr. Holiday received a Congressional Silver Medal, a Purple Heart and other recognition for his action during the conflict.
After the war, he returned to the Navajo reservation and worked as a police officer, a ranger and later started his own equipment company. He married Lupita Mae Isaac and had eight children.
In 2013, Mr. Holiday co-wrote a book about his experience as a Code Talker called "Under the Eagle."
Fewer than 10 Code Talkers are believed to be alive today. The exact number is unknown because the program remained classified for several years following the war.
Mr. Holiday spent his later days living at the Southern Utah Veterans Home in Ivins, Utah.
Shortly before his death, family members turned to the crowdfunding site GoFundMe to raise $4,000 to be able to visit him in hospice care. The Navajo Nation said he was surrounded by friends and family when he died.
A funeral service was held Friday, June 15, in Monument Valley, according to the Navajo Nation Council, with burial at a veterans' cemetery in the Navajo community of Kayenta, Ariz., next to his wife.
The library at the Kayenta Middle School is named for Mr. Holiday.
He is survived by six children, 35 grandchildren, 30 great-grandchildren and two great-great-grandchildren.