Oprah Winfrey exhibit opens at National Black History Museum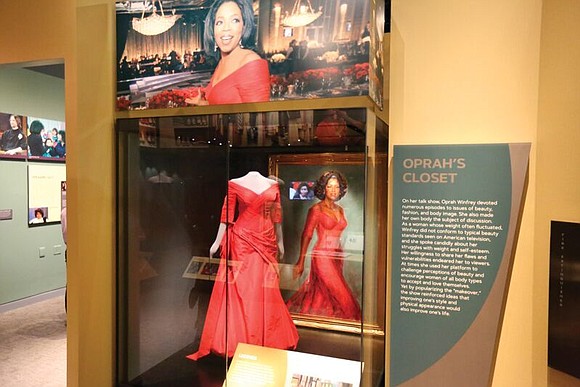 WASHINGTON
One of the most recognizable openings in television history blares on a video screen: "I'm Oprah Winfrey, and welcome to The Oprah Winfrey Show!" The crowd goes wild. At the center of it all, a dancing young Oprah.
This moment, televised more than 30 years ago, is now part of a yearlong exhibition that opened June 8 at the Smithsonian National Museum of African American History and Culture.
"Watching Oprah: The Oprah Winfrey Show and American Culture" chronicles the social events in the United States from Ms. Winfrey's birth in 1954 through her childhood and her rise in media to her time as the nation's first self-made black woman billionaire.
Ms. Winfrey, who toured the exhibit just days before its official opening, told "CBS This Morning" that she was honored by the exhibit and the response to it. "I do believe that we had a big impact on the culture, and I continue to feel that from people every day," she said.
The television personality has donated $21 million to the museum. But museum Director Lonnie G. Bunch III said the donation did not influence the creation of the showcase.
"This is not a show for Oprah or by Oprah," he said. "This is a show about other issues using the lens of Oprah."
Among the first objects that visitors see is a yellowed pennant from the 1963 March on Washington, and the diploma of Carlotta Walls, one of the nine black students who integrated Central High School in Little Rock, Ark., in 1957.
"This exhibition is really an opportunity to explore the cultural impact of The Oprah Winfrey Show," said exhibitions curator Kathleen Kendricks. "This is a chance to really put Oprah in this broader context of African-American history and culture and unpack her popularity and significance."
On her walkthrough, Ms. Winfrey watched one of the exhibit's television displays showing The Supremes singing and dancing on The Ed Sullivan Show. "It was the first time I realized you could be a beautiful black woman on television," she said.
Ms. Winfrey's headshot pops out of magazine covers stretching across the wall: Fortune, EBONY, Mediaweek, National Review, Newsweek. Her first name is used as a verb, along with new words like "Oprahfication" and "Oprahliferative."
HARPO Productions, Inc., which Ms. Winfrey founded in 1986, provided many items for the exhibit from her personal life and career. A diary is opened to Sept. 8, 1986, where Ms. Winfrey said, "Exactly 8 hours before the national 1st show. I keep wondering how my life will change."
Throughout the gallery, Ms. Winfrey's personal effects — evening gowns, designer clothing and shoes, her drinking glass, the Golden Globe she was awarded earlier this year — are juxtaposed alongside video clips from "The Oprah Winfrey Show." There are also blue cue cards, green room photos with celebrity guests, and keys from a vehicle that was a prize in Ms. Winfrey's famous "You get a car!" giveaway.
Ms. Winfrey's highly popular daytime talk show aired for 25 years and 4,561 episodes, ending in 2011. Ms. Winfrey discussed topics ranging from sexual orientation, body image, health, and, as featured in the museum, the idea of woman empowerment, especially for women of color.
"In many ways, we realize that this is a fascinating story, not just about an individual, but about a change in our culture, about the changing notions of the power in media in the role of race," Dr. Bunch said.