John Marshall High wins state basketball championship
Fred Jeter | 3/16/2018, 7:18 a.m.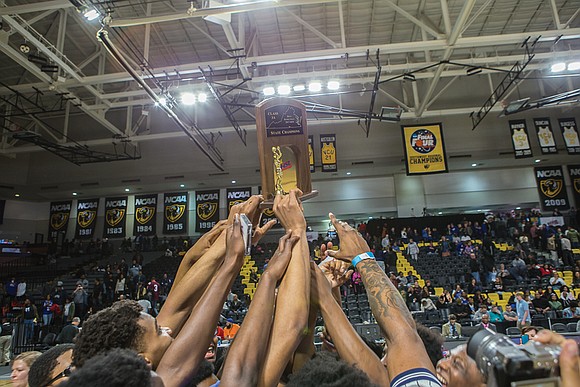 The best may be yet to come for the John Marshall High School basketball team.
Tall, talented and boasting of having almost everything but seniors, the team strolled to the 3A state basketball championship title last Friday, routing Western Albemarle High School 63-42 before a crowd of 5,400 at the Siegel Center in Richmond.
It was apropos the state final was played on the court where "Havoc" was made famous by former Virginia Commonwealth University Coach Shaka Smart.
Demanding a breathtaking pace with full-floor defensive pressure — "Havoc" style — the John Marshall Justices led 19-7 after one quarter and 37-17 at intermission before mercifully lightening up on the pedal.
"We've played teams that quick. But never as big and quick," Western Albemarle High Coach Darren Maynard said after losing to the Justices.
John Marshall not only rules the 3A division now, but figures to do so for some time to come.
Coach Ty White's starting quintet consisted of juniors Levar Allen and Demarr McCrae; sophomores Elijah Seward and Isaiah Todd, aka the "Bible Brothers;" and bespectacled freshman Roosevelt Wheeler.
The combo of 6-foot-10 Todd, who is among the nation's top basketball prospects for the Class of 2020, and ultra-promising 6-foot-9 Wheeler form the ominous "Blue Forest" defense that's hard to see over.
Western Albemarle, shooting 35 percent, was clearly intimidated. It's hard scoring with shaky hands.
"It was almost like playing a college team," Coach Maynard said. "I wish they'd move them to a higher classification."
He wasn't kidding.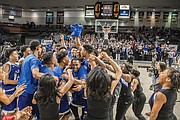 It could have been worse. There were numerous fan-friendly John Marshall dunks, along with a pair of breakaway slam attempt misses. McCrae and Seward, ever the showmen, misfired while trying to add some degree of difficulty to their above-the-rim theatrics.
Also, Todd was limited to 21 minutes of play and McCrae to 17 minutes because of fouls. Todd played just seven minutes during the first half while John Marshall was going up by 20 points.
The Justices are on a short list of state champs that won the top prize without a single prominent senior.
Things can only get better for the team.
Seward, a southpaw with a smooth 3-point release, led John Marshall's scoring with 15 points.
Off the bench, juniors Jairus Ashlock and Aubrey Merritt were eye-catchers. Ashlock had 13 points and Merritt, the epitome of defensive persistence, added six assists and four steals.
Ashlock and Merritt "would be starters for any other school in Virginia," Coach White said. "Our top five or six (players) are all Division I players."
Asked who might be MVP, Coach White replied, "The whole team."
Overmatched Western Albemarle (23-7) finished with 14 field goals and 20 turnovers, an undesirable ratio.
"They (John Marshall) were very aggressive and we weren't ready for their pressure," Coach Maynard said.
Employing what it called a "Pack Line Defense," Western Albemarle had been holding opponents to scores in the 40s earlier in the season, but there was no holding relentless John Marshall. It would have been like trying to stop traffic on Interstate 95.
After starting the season 4-5 with all losses out of state, John Marshall finishes 23-6, with 13 straight victories, most by lopsided margins.
With such success, there can be skepticism, some of which came out in a postgame press conference. A reporter asked if the John Marshall players "all played together, year-round, on AAU travel teams."
Coach White responded, "They play AAU, but not on the same team."
Todd, wearing the cut-down nets around his long neck, was asked if he was tempted to "transfer" to an exclusive private school.
While conceding "that's what you hear," the towering 10th-grader quickly shot down that notion.
So what do the new state champs do for an encore?
Up next is the 2018-19 season with everyone on the team returning. After that, there's the 2019-20 season, with Todd, Seward and Wheeler returning.
The rest of Virginia would seem to be playing for second place.
Stay tuned.