4 area students receive Pi Lambda Theta scholarship awards
3/23/2018, 9:55 a.m.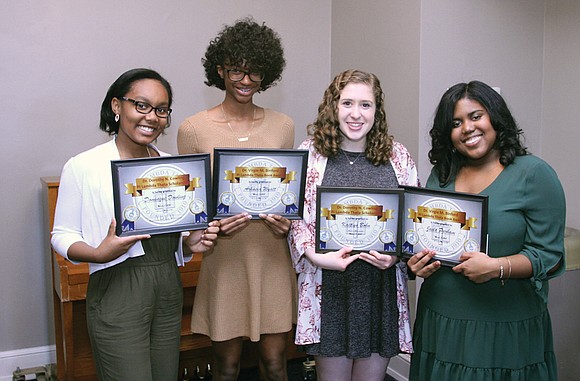 Four area high school seniors were honored by the Virginia Area Chapter of Pi Lambda Theta at its annual scholarship program on Sunday.
The four were chosen for their academic excellence and their goal of becoming educators after college.
Domonique Dowling and Kaitlyn Bohn, students at Glen Allen High School, received the Dr. Dorothy Norris Cowling Scholarship of $1,500 each, while Arkasia Wyatt of Huguenot High School and Jaela Parham of Hermitage High School received the Dr. Virgie M. Binford Book Award of $500 each.
Domonique, who is completing a yearlong internship with Teachers for Tomorrow, has a 3.58 GPA. She plans to enroll at George Mason University.
Kaitlyn, who is a member of several school organizations, has a 4.2 GPA and plans to attend James Madison University.
Arkasia, who is ranked No. 5 in her class with a 4.129 GPA, plans to attend Norfolk State University.
Jaela, who volunteers with several community organization, has a 3.483 GPA. She has been accepted at several universities but has not yet decided where she will enroll in the fall.
The late Drs. Cowling and Binford were founding members of the Virginia Area Chapter of the international honor society for educators. The organization was founded in 1910.
The program, held at Belmont Recreation Center, also featured dinner, music and dancing.