MLK Middle School cheerleaders win national competition
3/30/2018, 11:59 a.m.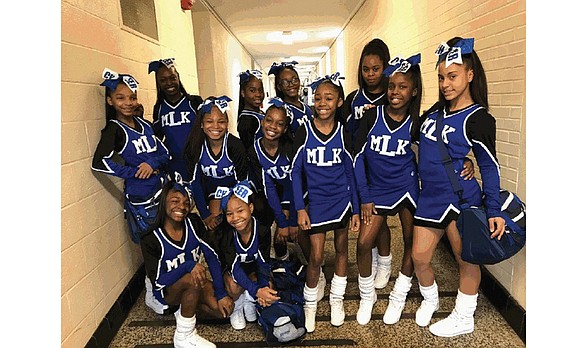 Winners.
That's the new title for the cheerleaders at Richmond's Martin Luther King Jr. Middle School.
The team captured first place in their division in the National Stomp-N-Shake Cheer & Dance Championships on March 17 at North Carolina A&T State University.
Led by its captain, Armoni Stokes, and co-captains Moeneja Miller and Toniyah Ross, the team won in the non-stunt division for middle school students, according to Power Spirit, which staged the competition at the campus in Greensboro, N.C.
The Richmond school's cheering squad bested teams from the two other schools that competed.
"I'm so proud of our squad," said Loretta Watson, a science teacher who doubles as the cheerleading coach. She has been coaching cheerleaders for 23 years, starting first at East End Middle School and continuing at Martin Luther King Jr. Middle after East End and Mosby middle schools merged to form the school a few years ago.
Ms. Watson said this was the team's first trip to a competition and credited the support of Principal Inett Dabney with making it happen.
Ms. Watson said the team raised more than $3,500 from hosting dances and selling popcorn, candy bars and other items to cover the entry fees, the cost of a bus and food.
The team has 17 participants, but only 12 went on the trip, Ms. Watson said.
"It was a little tougher for us. We fell short of our fundraising goal so we had to travel there on Saturday rather than being able to stay overnight. But our girls were ready when it came to cheering."
Along with the captain and co-captains, the winning team also included Margie Archie, Victoria Bernah, Kanek Booker, Jahnise Goody, Nysia Harris, Shamiyah Miller, Chynna Terry, Nadia Washington and Jayla Watkins.