John Marshall standout Isaiah Todd transferring
Fred Jeter | 5/4/2018, 8:33 a.m.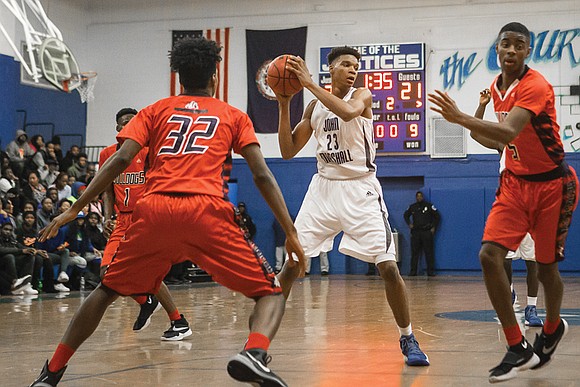 Isaiah Todd, arguably the area's top college prospect since Moses Malone, is changing basketball addresses.
After leading Richmond's John Marshall High School to the State 3A title this past winter as a sophomore, the 6-foot-10 Todd is transferring to Trinity Academy, a Christian-based private school in Raleigh, N.C.
Trinity went 8-17 this past season competing in the North Carolina Independent Schools Athletic Association.
In Raleigh, Todd will be closer to his personal trainer, Drew Hanlen, CEO of Pure Sweat Basketball.
Hanlen's list of former clients includes current NBA players Joel Embiid, Andrew Wiggins, Bradley Beal and Jameer Nelson.
Todd is ranked by all scouting services as among the top prospects for the Class of 2020. He already has scholarship offers from most of the nation's premier basketball programs.
John Marshall High won the state championship without a senior in the lineup. Even without Todd, the Justices should continue to be a powerhouse under Coach Ty White.
Todd's exit is a continuation of a trend. In recent years, some of the top local players have transferred to private schools.
Among them:
Ed Davis: After starting at Hanover High, he transferred to Benedictine as a junior. He currently is a member of the NBA Portland Trail Blazers.
Robert Johnson: After earning All-Metro honors at L.C. Bird High School in Chesterfield, he transferred to Benedictine and went on to become a four-year regular at Indiana University.
Andrew White: After starring at Thomas Dale High School in Chesterfield, he transferred to The Miller School. He is now under contract with the NBA Atlanta Hawks.
Devin Robinson: After starting his career at Manchester High School in Chesterfield, he transferred to Christchurch School. He is now under contract with the NBA Washington Wizards.
Michael Gbinije: Originally at Thomas Dale High, he later played at Christchurch and Benedictine. He is now with the Santa Cruz Warriors of the NBA G-League.
Curtis "Cujo" Jones: Began his career at Highland Springs High School in Henrico before transferring to Huntington Prep in West Virginia. He is now playing at Indiana University.
Another standout athlete now playing high school hoops elsewhere is Joe Bamisile. After starting at St. Christopher's School, Bamisile is now at Montverde Academy in Florida, Class of 2020.