Washington NFL team picks 2 in draft to fill holes
Fred Jeter | 5/4/2018, 8:39 a.m.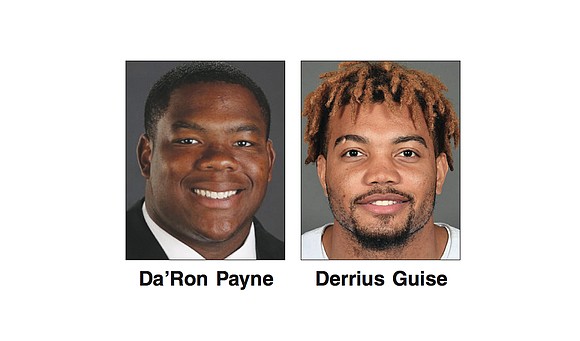 The Washington NFL team finished dead last — 32nd — in defense against the run during the 2017 NFL season.
Da'Ron Payne has been chosen to help plug the sieve.
The 6-foot-3, 311-pound Payne, out of the University of Alabama, was Washington's first round pick in last week's NFL Draft. He was the 13th overall pick.
Payne was the Defensive Most Valuable Player in Alabama wins over both Clemson University and the University of Georgia in last year's National Championship playoffs.
Washington Coach Jay Gruden said he plans to employ Payne at the position of nose guard.
It marks the second straight year Washington has picked a defensive lineman from Alabama at No. 1. Last season's top selection was Jonathan Allen, whose rookie season was cut shot by injury.
Another problem area for Washington is its running game. Second round pick Derrius Guise from Louisiana State University may be the answer.
The 5-foot-11, 224-pound Guise rushed for 3,074 yards in three seasons at LSU, averaging 7.1 yards per carry.
As a team, Washington averaged just 3.6 yards a carry last season, placing 28th overall in running offense.
Like Payne, Guise forfeited the final season of his college eligibility to enter the NFL Draft.
Washington fans can see Payne and Guise when preseason training begins in late July at the Bon Secours Training Center in Richmond.