Pujols joins baseball elite hit-home run club
5/11/2018, 9:07 p.m.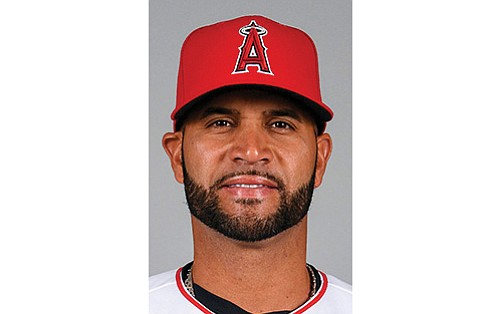 Albert Pujols has slugged his way onto the short list of baseball's all-time hitters.
The Los Angeles Angels first baseman/designated hitter joins legends Hank Aaron, Willie Mays and Alex Rodriguez as the only players with at least 3,000 hits and 600 home runs.
Take a moment to digest that.
According to statistics dating to the 1880s, only 32 players have ever reached 3,000 hits.
And only nine have at least 600 homers.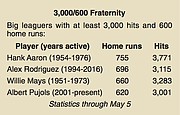 Only four of thousands of players have celebrated attaining both lofty milestones.     
"Both are incredibly difficult to achieve," Angels manager Mike Scioscia told the Los Angeles Times. "One takes tremendous hitting skill. One requires incredible power. To combine the two — it's monumental."
Pujols' current career .304 average is ahead of Mays (.302) and Rodriguez (.295) and just behind Aaron (.305).
Pujols, a 6-foot-3, 240-pound, four-time league MVP and 10-time All-Star, collected hit No. 3,000 on Friday, May 4, with a single in a 5-0 Angels win at Seattle.
Angels fan in attendance sat in clusters of four wearing T-shirts with a "3" followed by three "0"s.
After hitting the ball, Pujols rounded first base, clapped his hands emphatically, one-two-three times, and pointed skyward before being mobbed by teammates.
"It was hard hugging everyone so I told them, 'Let's just do a group hug.' So we all got in a circle and we did a group hug," Pujols said in a light-hearted press conference.
Pujols later added another single in the same game against Seattle to pass the late Roberto Clemente (3,000 hits) on the all-time chart.
Born in Santo Domingo, Dominican Republic, Pujols' full name is Jose Alberto Pujols Alcantara. His family moved to New York City when he was 16, then shortly after that to Independence, Mo. Pujols played at Fort Osage High and one year at Maple Woods Community College before being drafted 402nd overall by the St. Louis Cardinals.
There were questions about his age. As a high school senior, Pujols was intentionally walked 55 times as a protest by opponents who did not believe he was high school age.
Because of his powerful frame and statistical achievement, Pujols frequently has been accused of using performance-enhancing drugs. He has never tested positive.
Among active players, Detroit first baseman Miguel Cabrera might have the best chance of reaching the 3,000/600 Club. The 35-year-old has 465 homers and 2,666 hits.
Among the near misses:
All-time long-ball champ Barry Bonds had 2,935 hits to go with his record 762 homers.
Babe Ruth, no doubt, would have made the list had he not spent his first five seasons primarily as a pitcher. "The Babe" finished his career with 714 homers and 2,873 hits.
Ted Williams finished with 521 homers and 2,654 hits despite missing four prime seasons serving as a fighter pilot during World War II.