Lt. Gov. Justin E. Fairfax and U.S. Sen. Mark R. Warner encourage VSU graduates at dual commencement ceremonies
5/19/2018, 3:23 p.m.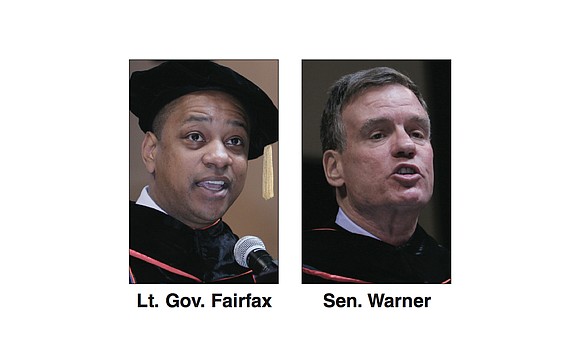 "Today, you have that same promise, but with it comes a responsibility. I believe your obligation is to strive, to reach and to not be afraid to fail," he said.
The George Washington University and Harvard Law School graduate told the audience how he invested his life savings of $5,000 in an energy startup company that failed within six weeks. He then tried real estate and failed at that within six months, he said. His third try was investing in a new technology — cellular phone service. He co-founded a company that later became Nextel Communications, which merged with Sprint in 2005.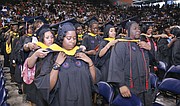 "Only in America could I have had not one, not two, but three chances," Sen. Warner said. "Truth is, I'm not sure if I had not been a white guy with the right education that I would have got three chances, or two chances, or even one chance. If we are going to realize the potential of this country, one of the things we need to make sure of is that when you go out, we can't guarantee you success, but we must guarantee that everyone in America gets their fair shot."
Sen. Warner served as Virginia's governor from 2002 to 2006 before taking office as a U.S. senator in January 2009. He is vice chair of the Senate Intelligence Committee that is investigating Russian interference in the 2016 presidential election and connections to the Trump campaign.
Sen. Warner and Lt. Gov. Fairfax were awarded honorary degrees during their respective ceremonies.
Also recognized were Ashley Marie Shanfelter of North Dinwiddie County, the highest ranking senior in the Class of 2018, who had a perfect 4.0 GPA in earning a bachelor's in interdisciplinary studies with a minor in special education, and Sharon Evangeline Crenshaw, who received the VSU Alumnus of the Year Award for her support of the university.
Dr. Alma Cobb Hobbs received the Presidential Award of Distinction from VSU President Makola M. Abdullah for her contributions to the community and as a member of the VSU Board of Visitors from 2004 to 2008.
The Reginald F. Lewis Prize, which is awarded to a graduating senior from the VSU Reginald F. Lewis College of Business who has made the most progress from their sophomore year to senior year, was presented to Mabertine Pierre of Portsmouth, who will pursue graduate studies in film at New York University.
Brittany McCoy, senior class president, and Cody Mitchell, president of the Student Government Association, also offered remarks during the afternoon ceremony.
Ms. McCoy reminded her classmates to be themselves when they go out into the world.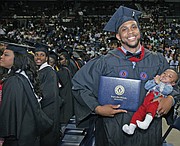 "Don't walk through life trying to be exactly like someone else that you look up to. The world doesn't need another Beyoncé, or Malcolm X or Barack Obama," she said. "What the world needs is for you to bring your personality, transformative ideas and individual touch to ensure that the world is a better place to live because of us.
"Although we may be frightened, right now is an integral part of our lives where we can either choose to walk with fear or walk with faith," she said. "The two cannot coexist, nor can they collaborate," Ms. McCoy continued. "The decisions you make every single day will determine how you conquer your opportunities, your obstacles and your life."
Mr. Mitchell encouraged the graduates to dream.
"There are many who dream of becoming doctors, lawyers, educators and engineers," he said. "It is us, the dreamers, who have the ambition to see past our goals and go to discover the next cure, to solve the next big case, and in turn, enrich future generations."