Wallace 'Wally' Triplett, football pioneer, dies at 92
11/15/2018, 6 a.m.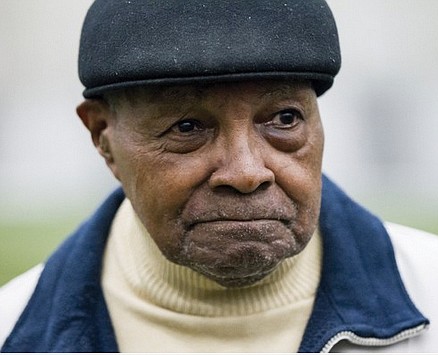 Wallace "Wally" Triplett, who set many "firsts" as a pioneering African-American football player, died Thursday, Nov. 8, 2018, at his home in metropolitan Detroit. He was 92.
The native of La Mott, Pa., was the first black player to start for Penn State University in the 1940s.
A running back and kick returner, Mr. Triplett helped the Nittany Lions to a 23-3-2 record over three seasons. And, on Jan. 1, 1948, he and teammate Dennie Hoggard became the first African-American players to compete in the Cotton Bowl. He made the touchdown for Penn State that tied the game 13-13 with Southern Methodist University.
Later in 1948, he became the first African-American drafted by an NFL team — the Detroit Lions in the 19th round — who actually played in the league.
George Taliaferro, a quarterback-running back from Indiana University, was drafted in the 13th round by the Chicago Bears that same year but did not directly go to the NFL.
Mr. Triplett made a dramatic impact with the Lions. But he often was made to stay in different hotels than his white teammates on road games.
In 1949, he scored on an 80-yard touchdown run against the Green Bay Packers, the longest in Detroit history.
That same year, he enjoyed one of most dynamic performances in NFL lore. Facing the Los Angeles Rams, he returned four kickoffs for 294 yards. His four returns were for a 97-yard touchdown, plus 81, 74 and 42 yards. It was an NFL record that stood 44 years and still ranks third of all time.
After two seasons with the Lions, Mr. Triplett became the first active NFL player drafted by the military. He missed the 1950 season serving in the Korean War.
He returned to the NFL to play two more seasons with the Chicago Cardinals before retiring. He worked as a teacher, in the insurance business and, later, with the Chrysler Corp.
Mr. Triplett is in the Cotton Bowl Hall of Fame in Dallas and his photo is displayed in the NFL Hall of Fame in Canton, Ohio.
While at Penn State, he co-founded the Gamma Nu Chapter of Alpha Phi Alpha Fraternity.