Martha High, backup singer for James Brown, to speak Sept. 22 at Black History Museum
Leah Hobbs | 9/20/2018, 6 a.m.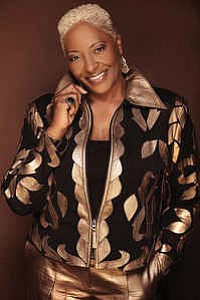 Martha High has stories to tell.
The Victoria, Va., native spent more than 30 years singing with "Godfather of Soul" James Brown, the "hardest working man in show business."
Ms. High will tell some of those stories, sing a few songs and sign copies of her book, "He's a Funny Cat, Ms. High: My 32 Years Singing with James Brown," at 2 p.m. Saturday, Sept. 22, at the Black History Museum & Cultural Center of Virginia, 122 W. Leigh St. in Jackson Ward.
The event is part of the museum's Literary Saturday series.
Ms. High grew up in Washington singing at the Trinity A.M.E. Zion Church.
"I started singing at a very young age around the house like I was an opera singer," she told Soul and Jazz and Funk, an independent soul news and reviews website. She was about 6 or 7 at the time.
"My brothers would tell my mom, 'Tell her to stop that noise, she's making too much noise around the house.' My mother said, 'She's not making noise, she's singing.' "
Around 1963, Ms. High began singing with The Four Jewels, whose members attended the same church and high school as Ms. High.
The group changed its name to The Jewels and signed with Dimension Records, their most popular song, "Opportunity," reaching No. 64 on Billboard's Hot 100.
Ms. High met James Brown one night when the group was performing at the Howard Theatre
"All of a sudden, we heard this ruckus and we saw that James Brown came in," Ms. High told a British newspaper. "After the show, Mr. Brown came to our dressing room and told us how much he enjoyed our show. When he left, we were jumping up and down and screaming, so excited that Mr. Brown liked us, just like normal teenagers would."
The Jewels ended up touring the country as Mr. Brown's backup vocalists in 1964 and recorded two singles he produced. When the group disbanded after a few years, Ms. High released "High," a solo disco album in 1979.
Ms. High continued singing for Mr. Brown, performing on recordings such as "Summertime," the album "James Brown's Original Funky Divas" and his 1968 live performance of "There Was a Time." She is known for her soprano note at the beginning of Mr. Brown's song, "The Payback."
The night after Martin Luther King Jr.'s assassination in 1968, Ms. High performed with Mr. Brown at the Boston Garden. City officials considered canceling it because of the violent unrest that erupted in many U.S. cities after Dr. King's death. Instead, officials decided to do a free, live broadcast of the show, hoping to keep residents home. The crowd began to get volatile during the show, but Mr. Brown addressed the audience and the police, restoring order. The show continued peacefully and no violence broke out in Boston that night.
Just a few months later, Ms. High traveled to Vietnam with Mr. Brown, where they performed for American soldiers.
She also sang with Mr. Brown at the Zaire 74 music festival in 1974 promoting the "Rumble in the Jungle" boxing match between Muhammad Ali and George Foreman.
After more than 30 years as Mr. Brown's longest female vocalist and a key member of his inner circle, Ms. High stopped performing with Mr. Brown in early 2000 and went on tour as the lead singer for Maceo Parker, a saxophonist who was an integral part of his band.
Ms. High teamed up with the Soulpower organization, performing across Europe and Africa backed by the Soulpower Allstars. In 2016, Ms. High released another solo album, "Singing for the Good Times."
Her book was published in 2017.
Ms. High's talk at the museum is free for museum members and $4 for others. Registration is requested.
Details and registration: www.blackhistorymuseum.org or (804) 780-9093.