Bass gives George Wythe its aerial game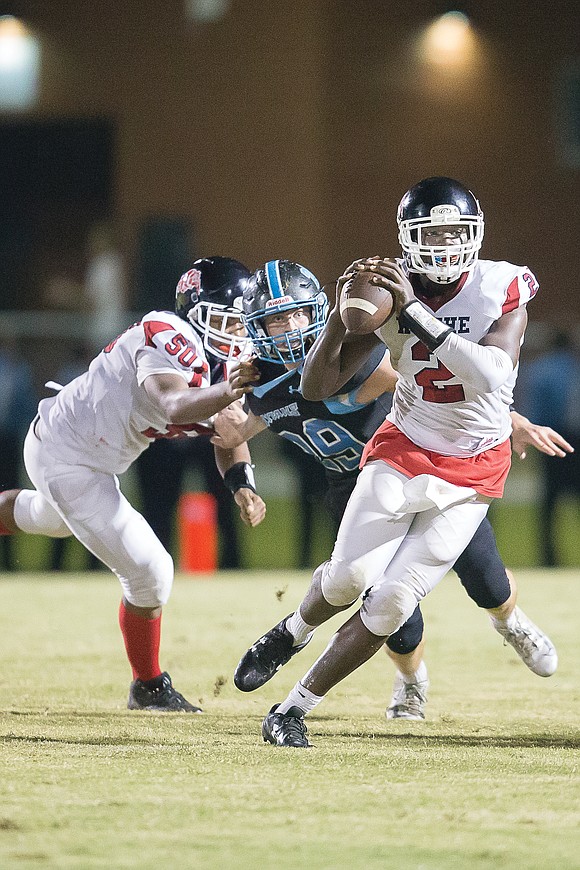 George Wythe High School football is committed to traveling via the airways. It's just as committed to Emontre Bass as its pilot.
The 6-foot-3, 220-pound junior quarterback known as "E" has earned his wings in second-year Coach Jerome Jeter's air-oriented offense.
"I like throwing long passes the most. But I like throwing short passes, too," said Bass. "I just love to pass."
Coach Jeter pointed out that even his name suggests his preferred game plan.
"Bass rhymes with pass," he said with a smile.
Fortunately, football doesn't have "pass counts" like "pitch counts" in baseball. There are no limits for this burly right-hander who unleashes spirals all over the gridiron.
Wearing red, white and blue red jersey No. 2, the 17-year-old was a busy Bulldog during the South Side high school's first three games. He went to the air 30 times in the opener against John Marshall High School, 30 more against Petersburg High School and a whopping 36 against Clover Hill High School.
After three games — all defeats for George Wythe — Bass was 54 for 96 for 695 yards and five touchdowns, with four interceptions.
"Emontre is a great athlete who really established himself in our offseason 7-on-7 practices," Coach Jeter said.
"He's a quiet, modest kid who wants to learn. He comes to practice every day wanting to correct what he's done wrong and continue to improve."
Among the largest players on the team, Bass also takes a turn at linebacker.
"He's an aggressive, physical kid," Coach Jeter said of the quarterback.
The son of Eric Bass and Darlene Jackson came into this season a virtual unknown. He missed the entire sophomore season to concentrate on academics. As a freshman, he opted to play for the champion Southside Ducks with the Richmond Department of Parks, Recreation and Community Facilities. With the Ducks, he was exclusively a linebacker.
"I think playing defense has helped me as a quarterback," Bass said. "The background helps me figure out what they're (the defense) doing."
Before joining the Ducks, Bass played quarterback for the Bellemeade Rams, coached at the time by current Wythe Coach Jeter.
As Wythe's signal caller, Bass' primary target has been junior wide-out Diyonte Plummer, a transfer from Huguenot High School.
The 5-foot-9, 165-pound Plummer had 16 receptions for 278 yards through three outings.
"Diyonte always tells me he's open," said Bass.
Asked about that, Plummer added, "I'm open all the time."
The Wythe passing game isn't by accident. Coach Jeter attended offseason training sessions at Virginia Tech, Temple and James Madison universities.
Coach Jeter refers to his offense as "RPO," meaning run-pass option.
Bass primed physically and mentally for this season by going to camps at Temple, Virginia State, Randolph-Macon and Christopher Newport universities.
Coach Jeter is a former quarterback himself at George Wythe, who transitioned to wide receiver at Virginia State University. Between 2003 and 2006, Coach Jeter caught 113 Trojans passes for 1,852 yards and 15 touchdowns
The native Richmonder much preferred seeing the ball fly in the air as a player. His plans are likewise as a coach with a quarterback of similar mindset. Pass and Bass have become synonymous in the Bulldogs' huddle.