Mayor Stoney proposes free bus service on Election Day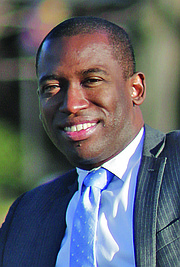 Mayor Levar M. Stoney wants to spend $24,310 to provide Richmond residents with free GRTC bus rides on Election Day, Tuesday, Nov. 6.

The mayor submitted legislation Monday to Richmond City Council seeking approval to boost the GRTC subsidy to cover the cost of eliminating fares for city transit service that day so that people can get to the polls.
"We know for many it can be difficult to get to polling locations on Election Day," Mayor Stoney stated. "With this proposal, we are hoping to increase voter participation by removing transportation as an obstacle. Many voting precincts are within a few blocks of GRTC service."

This Election Day, city voters will help elect a U.S. senator and a member of the U.S. House of Representatives, with 7th District residents also electing a member of the Richmond School Board to replace Nadine Marsh-Carter, who resigned last year. Retired principal Cheryl Burke has filled the seat on an interim basis.
Mayor Stoney urged residents to support his proposal for "public transit to the polls" and to register by the Monday, Oct. 15, deadline so they can vote.
"Our democracy is not a spectator sport," he stated. "Every vote matters. So I'm asking residents to please get registered, get involved and voice your support for free public transit to the polls."
Separately, the mayor also introduced legislation Monday providing for a one-year test of the new electric scooter rental service that a California-based company called Bird wants to operate in Richmond.
City Hall has blocked the operation of the scooter service until the council approves legislation that lays out the ground rules for the operation and taxation of the service.