Memorial service Oct. 6 for Jacqueline G. Epps
9/27/2018, 6 a.m.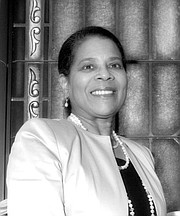 A memorial service for Jacqueline G. "Jackie" Epps, a Richmond attorney and former chair of the Virginia Retirement System, will be held 2 p.m. Saturday, Oct. 6, at Carver Memorial Presbyterian Church, 830 25th St., in Newport News.
Ms. Epps, a native of Buffalo, N.Y., died Friday, Sept. 14, 2018, following a fall in her residence. She was 71.